5th Grade Reading Comprehension Passages & Daily Questions: Fiction & Nonfiction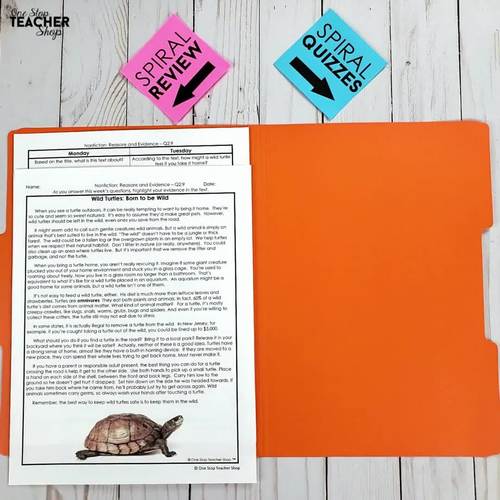 ;
Zip

Google Apps™
Includes Google Apps™
This bundle contains one or more resources with Google apps (e.g. docs, slides, etc.).
What educators are saying
I have been using this in my resource classroom! It has been helping my students better understand reading comprehension concepts and explain their reasoning.
I used this with my daughter to enhance her comprehension skills. These passages were awesome. I teach 2nd, and this was a great resource for many different skills. Thanks!
Products in this Bundle (4)
Also included in
This HUGE 5th Grade Spiral Review Bundle is the perfect way to SAVE on ALL of my 5th grade spiral resources. This big bundle includes ALL 3 of my popular Spiral Review & Quiz Resources, covering the ENTIRE YEAR of 5th Grade in Reading, Math, and Language!What's Included...Each of the resources

Price $74.99

Original Price $119.88

Save $44.89

This BIG 5th Grade LANGUAGE ARTS bundle is the perfect way to SAVE on ALL of my 5th Grade LANGUAGE ARTS resources. This big bundle includes Spiral Reading Review & Quizzes, Spiral Language Review & Quizzes, PLUS I CAN Grammar Games for the entire year.⇧ ⇧ ⇧ Check out the PREVIEWS for more i

Price $64.99

Original Price $114.82

Save $49.83

This bundle includes BOTH Digital and Printable versions of my 5th Grade Reading Spiral Review & Quiz resource. This bundle is perfect for teaching in the classroom or for teaching virtually with any learning platform (ex. Google Classroom, Canvas, Schoology, etc.)Use this daily spiral review a

Price $39.99

Original Price $79.92

Save $39.93
Description
Increase reading comprehension skills in just 10 minutes per day!! This 5th Grade Daily Reading Comprehension resource is perfect for Reading HOMEWORK, Reading MORNING WORK, or a DAILY READING REVIEW! All texts are professionally written & on-level. Text-dependent questions build in complexity each week as more skills are introduced. All questions are EDITABLE and easy to differentiate to fit your students' needs.
⭐⭐UPGRADE for just $10 and get both PRINT & DIGITAL versions } CLICK HERE
✪ Available for Math, Reading, & Grammar!! to learn more!
★★SAVE $$ with these BUNDLES★★
❤❤ Why Teachers LOVE This Resource! ❤❤
The daily assignments are meaningful and NOT overwhelming.
Daily review helps build & strengthen reading comprehension skills all year.
Students focus on one passage per week, digging deeper each day! Ideal for Close Reading
Questions are text-dependent and slowly increase in rigor as the week progresses.
The weekly comprehension quizzes quickly assess students each week without wasting too much time or being overwhelming. *perfect for progress monitoring
Each week includes multiple constructed response questions.
It's Editable - change questions or wording to differentiate and fit your students' needs.
Parents appreciate the consistency of the homework (if used as homework).
Teachers find students need almost NO test-prep before standardized testing when using this resource all year.
What's Included...
36 weeks of Daily Reading Review Sheets
36 weeks of Weekly Reading Quizzes
36 weeks of Constructed Response Practice
Covers the ENTIRE YEAR of 5th grade Reading; Fiction and Nonfiction Standards!
4 text-dependent questions per day, Monday-Thursday (16 questions per week) (not too overwhelming)
All passages were written by a professional author!
Each week focuses on one standard while still reviewing other reading standards.
Questions are Editable in Microsoft Word & Google Docs (also comes in PDF)
ANSWER KEYS included!
2 Formats Available: "Condensed" format to save paper & a "More Space" format to give students more space to show their work.
Pacing Guide for the entire year
3 editable graphs for tracking student progress (use with weekly quizzes)
2 Weeks of Review to start the school year
3 Weeks of the next grade level to Preview at the end of the school year
Use as daily homework or morning work and give the quiz on Friday to hold students accountable
✎ How it works...
Students complete just one set of questions per day, Monday through Thursday.
The same passage is used all week to promote fluency.
Each week focuses on one main skill/standard while continuously reviewing other standards.
Use the Constructed Response Practice question during the week.
On Friday, give the aligned reading comprehension quiz (4 multiple-choice questions and a constructed response).
★★CHECK OUT MY OTHER POPULAR RESOURCES★★
▼▼▼▼▼▼▼▼▼▼▼▼▼▼▼▼▼▼▼▼▼▼▼▼▼▼▼▼▼▼▼▼▼▼▼▼▼▼▼▼▼▼▼▼▼▼▼▼▼▼▼▼▼▼▼▼▼▼▼▼▼▼▼▼▼▼▼▼▼▼▼▼▼▼▼▼▼▼▼
LOOKING for MORE great RESOURCES???
Download my FREE Shopping Guide to easily browse through ALL of my resources.
►FOLLOW me on Teachers Pay Teachers!
►FOLLOW the One Stop Teacher Shop BLOG!
If you would like to contact me about pricing on a license for an ENTIRE school, county, or district, please email me at kristin@onestopteachershop.com
TERMS OF USE - © One Stop Teacher Shop, Inc.
This item is a paid digital download from my TpT store
www.teacherspayteachers.com/Store/One-Stop-Teacher-Shop
As such, it is for use in one classroom only. This item is also bound by copyright laws. Redistributing, editing, selling, or posting this item (or any part thereof) on the Internet are all strictly prohibited without first gaining permission from the author. Violations are subject to the penalties of the Digital Millennium Copyright Act. Please contact me if you wish to be granted special permissions!
Report this resource to TPT
Standards
to see state-specific standards (only available in the US).
Quote accurately from a text when explaining what the text says explicitly and when drawing inferences from the text.
Determine a theme of a story, drama, or poem from details in the text, including how characters in a story or drama respond to challenges or how the speaker in a poem reflects upon a topic; summarize the text.
Compare and contrast two or more characters, settings, or events in a story or drama, drawing on specific details in the text (e.g., how characters interact).
Determine the meaning of words and phrases as they are used in a text, including figurative language such as metaphors and similes.
Explain how a series of chapters, scenes, or stanzas fits together to provide the overall structure of a particular story, drama, or poem.