5th Grade Science Review Bundle - Science Reading Comprehension Passages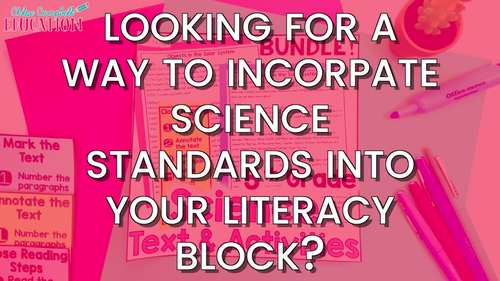 ;
Products in this Bundle (47)
showing 1-5 of 47 products
Bonus
All files in one easy downloadable PDF!
Description
Looking for a way to bring science into your literacy block while teaching about the science standards? This is a YEAR LONG bundle that will save you hours of time! You'll receive 47 informational texts that cover all of the science standards for 5th grade! Students will do a close read on a science based topic, answer multiple choice questions (10 questions for each article), then use graphic organizers to show what they've learned.
This is an entire year worth of reading passages that connect to the science standards for 5th grade! By downloading the bundle, you are saving 40%!
This science reading comprehension passage, questions, and graphic organizers are the perfect way to connect science and literacy. These passages are high-interest, non-fiction passages and are a great way to teach all about science. Students will read about science while practicing reading skills, too!
5th Grade Science Text and Close Activities Includes:
47 Informational Texts
470 Multiple Choice Questions with Answer Key (10 questions for each text)
Teacher Tips
Questions to Ask Students
Close Reading Steps on a Bookmark
Version with "Annotate the Text" and Version with "Mark the Text"
How to Mark the Text Bookmark
How to Annotate the Text Bookmark
7 Graphic Organizers:
1. Main Ideas with Text Evidence
2. Ideas with Text Evidence
3. Central Ideas with Details
4. Main Idea with Details, Main Idea, Details, Conclusion
5. KWL
6. Overview: Topic, Author's Purpose, Key Vocabulary, Most Important Thing,
I wonder, Important Facts, Illustration
7. Context Clues (3 versions: 3 words, 4 words, 5 words)
Topics Included:
Energy
Electrical Energy
Mechanical Energy
Light Energy
Sound Energy
Heat Energy
Chemical Energy
Circuits
Conductors and Insulators
Balanced & Unbalanced Forces
Forces and Motion
Push and Pull
Magnets
States of Matter
What Dissolves in Water?
Atomic Theory
Chemical & Physical Changes
Water Cycle
Weather in Environments
Weather Tools
Types of Precipitation
Climate Zones
Natural Disasters
Control Groups
Experimental Trials
Experiments vs. Investigations
Scientific Method
Inner & Outer Planets
Types of Galaxies
Objects in Solar System
Amphibians
Arthropods
Birds
Fish
Mammals
Reptiles
Hereditary & Learned Behaviors
Plant and Animal Adaptations
Flowering & Non-Flowering Plants
Complete & Incomplete Metamorphosis
Circulatory System
Digestive System
Immune System
Musculoskeletal System
Nervous System
Urinary System
Respiratory System
Spark a love of science with these high-interest, science-based reading passages.  A great way to meet multiple standards with one activity. 
Ideas for Use:
Whole Group Instruction
Partner Practice
Guided Reading Groups
Substitute Plans
Send Home to Practice
ELA Work Stations or Centers
Assessment
Close Reading: A reading strategy that is used to comprehend and analyze a text closely. Students will typically read the text at least twice for comprehension, details, analysis, and deep questioning of the text's purpose and meaning.
Steps for Close Reading:
Read the Text
Mark Up the Text or Annotate the Text
Read the Text Again
Define Unknown Words
Read the Text Again
Respond to Reading
See the preview for additional information!
Be sure to check out these engaging science activities!
Get TPT credit to use on future purchases:
Go to your My Purchases page (log in first). Click on the Provide Feedback button to leave a rating and a short comment. You'll earn TPT credits, which you can redeem on future purchases!
Having difficulty with a file?
Visit the FAQs section, submit a help ticket, or ask a question on the Q& A tab before leaving feedback.
Copyright © Chloe Campbell
Permission to copy for single classroom use only.
Please purchase additional licenses if you intend to share this product.
Report this resource to TPT