6th Grade Math Early Finishers Paper Version Great for Sub Days Homework Warmups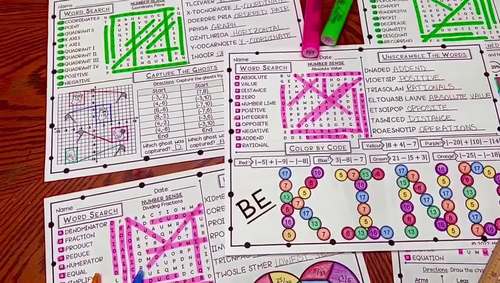 ;
What educators are saying
This is such a great resource I use as an early finisher so that they can review what we have been focusing on.
I have used a few of these with my students and they enjoy the variety and independence. It offers another step to using math in the classroom!
Also included in
⭐ This bundle includes ALL of my 6th Grade Math material in my store and ALL future 6th Grade Math Products ⭐This includes all of my popular 6th grade math interactive notebooks, practice worksheets, foldables, activities, warm-ups, homework, early finishers, exit slips, assessments, and SO MUCH MOR

Price $249.99

Original Price $388.40

Save $138.41

This is a bundle that includes all of my 6th, 7th, and 8th Grade Math Early Finishers. There is 2 versions available for each grade level (paper & digital).My Early Finishers are perfect for subs, extra class time, and/or anytime a student finishes a test or assignment early! You can also use th

Price $121.44

Original Price $134.93

Save $13.49

This bundle includes both PAPER & DIGITAL files for my 6th Grade Math Early Finishers.The paper version and digital version include 36 pages (72 total). Each page has a word search, unscramble the words, and an activity on the bottom (color by code, build a monster, or etc). These early finisher

Price $32.99

Original Price $39.98

Save $6.99
Description
This resource is my 6th Grade Math Early Finishers (Paper Version). It includes NO PREP! Just print and go!
There are 36 pages. Each page has a word search, unscramble the words, and an activity on the bottom (color by code, build a monster, or etc). These early finishers can be used when students finish a test early, on sub days, as homework, as warmups, and so much more!
The concepts included are:
(1) Adding Decimals
(2) Subtracting Decimals
(3) Multiplying Decimals
(4) Dividing Decimals
(5) Dividing Fractions
(6) Exponents
(7) Order of Operations
(8) Absolute Value
(9) Coordinate Plane
(10) LCM & GCF
(11) Rates & Ratios
(12) Percents
(13) Percent-Decimal Conversions
(14) Percent of a Number
(15) Finding a Percent
(16) Finding the Base
(17) Intro to Variables
(18) Evaluating Expressions
(19) Algebraic Expressions
(20) One-Step Equations
(21) One-Step Inequalities
(22) Combining Like Terms
(23) The Distributive Property
(24) Area of Parallelograms
(25) Area of Triangles
(26) Area of Trapezoids
(27) Area of Composite Figures
(28) Parts of 3-D Objects
(29) Volume of Rectangular Prisms
(30) Surface Area using Nets
(31) Polygons in the Plane
(32) Dot Plots & Frequency Tables
(33) Histrograms
(34) Mean, Median, Mode, and Range
(35) Mean Absolute Deviation (MAD)
(36) Box Plots
You can use the assignment as a review at the end of the year OR you can use it throughout the entire school year!
Questions? Please contact me at mathindemand@hotmail.com. Thanks so much!
Report this resource to TPT