6th Grade Math Review Games for the Entire Year BUNDLE - Math Activities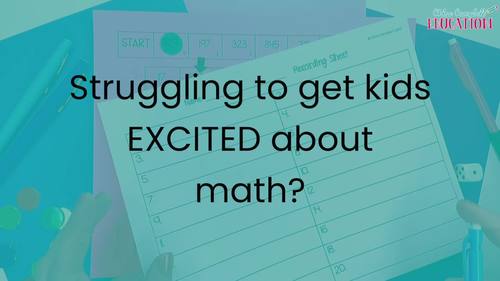 ;
What educators are saying
As a math intervention teacher I use this resource in a small group setting to help support student learning and progress.
Products in this Bundle (50)
showing 1-5 of 50 products
Bonus
All games in one PDF download!
Description
You found the perfect 6th grade math review! Your 6th grade students will LOVE practicing or reviewing important math concepts with these hands-on and engaging math board games.  This year-long bundle has math games for all the 6th grade standards. A great on-going math center, practice after a lesson, small group instruction activity or even early finisher activity.  You can also use these math games as a spiral review throughout the year.  A fun test prep review, too! Your students will love completing these math board games while mastering the content standards along the way.  This full year bundle includes 50 sets of math board games, with each set containing 20 problems.  View the preview above to see a detailed look at everything in this huge bundle.  You can also find a list of all the skills and concepts included below.  Save 50% by purchasing this math board game year long bundle for 6th grade.
The following items are included in this 200+ page resource:
• Board Games List with Standards
• Directions Page for Students
• 50 Board Games
• Answer Keys for each Board Game
• Recording Sheet for Student Accountability
What's the best way to use this board game? 
Math Centers or Stations 
Whole Group Practice
Morning Work 
Early Finisher Activities  
Substitutes 
Send home to engage students' families
Tips for Playing this Math Game: 
Read the directions to the students and model how to play. 
Be prepared with dice/spinner and game pieces for each player (paperclips, pencil top erasers, pieces from another game, etc.) 
Every student should solve every problem - not just the person who rolls.
Create groups of 2-4 students. The lower number of students means the more focused students are while playing.
Remind students that the focus is not playing the game but that's just an added bonus! The focus should be on practicing math skills. 
Show students how to compare and discuss answers. Did you both get the same answer? If students get different answers, ask them to solve the problem using a different strategy or help coach each other through the problem. 
Do your students need math practice? Students will be playing a game and will often forget that they are even practicing math skills! Research shows that challenge-based gamification in the classroom leads to an increase of 34.755% in student performance (ScienceDirect, 2020). 
The best part? Your students will quickly learn the instructions to play the board game and will get right to work on playing (and practicing) their math skills. This resource is easy to use and requires very little prep. It's also printer friendly so you'll only use black ink! 
Board Games Included:
Algebraic Expressions and Written Descriptions
Evaluate Expressions
Order of Operations
Write Equivalent Expressions
Are These Expressions Equivalent?
Write Expressions When Solving Word Problems
Evaluate Expressions
Write Inequalities
Represent Inequalities on a Number Line
What Value Will Make the Equation True?
Writing and Solving Equations (x+p=q and px=q)
Independent and Dependent Variables
Writing Ratios
Equivalent Ratios
Ratios in Tables and Graphs
Unit Rates
Ratios with Tape Diagrams and Double Number Lines
Percentages
Converting Within Measurement Systems
Statistical Questions
Mean, Median, and Range
Box Plots
Dot Plots
Histograms
Real World Data Sets
Divide Fractions
Divide Whole Numbers
Add and Subtract Decimals
Multiply Decimals
Divide Decimals
Greatest Common Factor
Least Common Multiple
Use the Distributive Property to Express the Sum of Two Numbers
Positive and Negative Numbers
Integers and Opposites on a Number Line
Identify the Quadrant Where the Ordered Pair is Located in the Coordinate Plane
Plot Pairs of Integers on a Coordinate Plane
Graph Rational Numbers on a Number Line
Compare Integers
Understand Absolute Value
Compare Rational Numbers in a Real World Context
Solve Problems on a Coordinate Plane
Area of Quadrilaterals
Area of Triangles
Area of Polygons
Volume with Fractional Lengths
Volume Word Problems with Fractional Lengths
Polygons in the Coordinate Plane
Nets of 3D Figures
Nets and Surface Area
★ Check out the preview to see exactly what is included in this WHOLE YEAR bundle!
★ Printer Friendly Resource! All pages are in black ink ONLY. If you are looking to add color, feel free to print on colorful cardstock.
★ Each of these games are sold separately.
★ Looking for games for 2nd grade? 2nd Grade Math Board Games YEAR LONG Bundle!
★ Looking for games for 3rd grade? 3rd Grade Math Board Games YEAR LONG Bundle!
★ Looking for games for 4th grade? 4th Grade Math Board Games YEAR LONG Bundle!
★ Looking for games for 5th grade? 5th Grade Math Board Games YEAR LONG Bundle!
Teachers Like You Say This: 
⭐️⭐️⭐️⭐️⭐️ "Very easy to use and I truly believe students learn best through game play." -Tony
⭐️⭐️⭐️⭐️⭐️ "My students love playing games and a simple, easy prep game like this is a great addition to math centers, early finisher activities, and review days." -Nicole
___________________________________
Want to save money on future purchases?
Go to your My Purchases page (log in first). Click on the Provide Feedback button to leave a rating and a short comment. You'll earn TPT credits, which you can redeem on future purchases!
___________________________________
You may also like…
___________________________________
Having difficulty with a file?
Visit the FAQs section, submit a help ticket, or ask a question on the Q& A tab before leaving feedback.
___________________________________
Copyright © Chloe Campbell
Permission to copy for single classroom use only.
Please purchase additional licenses if you intend to share this product.
Questions or comments? Please email me at: chloecampbelleducation@gmail.com
Report this resource to TPT
Standards
to see state-specific standards (only available in the US).
Find the area of right triangles, other triangles, special quadrilaterals, and polygons by composing into rectangles or decomposing into triangles and other shapes; apply these techniques in the context of solving real-world and mathematical problems.
Find the volume of a right rectangular prism with fractional edge lengths by packing it with unit cubes of the appropriate unit fraction edge lengths, and show that the volume is the same as would be found by multiplying the edge lengths of the prism. Apply the formulas 𝘝 = 𝘭 𝘸 𝘩 and 𝘝 = 𝘣 𝘩 to find volumes of right rectangular prisms with fractional edge lengths in the context of solving real-world and mathematical problems.
Draw polygons in the coordinate plane given coordinates for the vertices; use coordinates to find the length of a side joining points with the same first coordinate or the same second coordinate. Apply these techniques in the context of solving real-world and mathematical problems.
Represent three-dimensional figures using nets made up of rectangles and triangles, and use the nets to find the surface area of these figures. Apply these techniques in the context of solving real-world and mathematical problems.
Recognize a statistical question as one that anticipates variability in the data related to the question and accounts for it in the answers. For example, "How old am I?" is not a statistical question, but "How old are the students in my school?" is a statistical question because one anticipates variability in students' ages.