6th Grade VOCABULARY BalloonPop™ Digital Review Games Set 1 Test Prep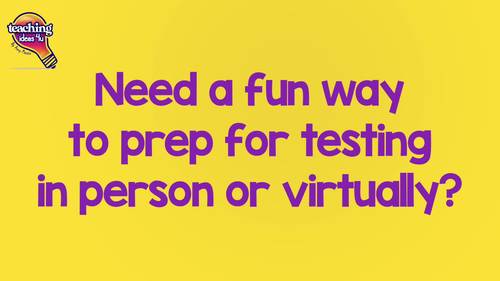 ;
Zip

Google Apps™

Internet Activities
Includes Google Apps™
The Teacher-Author indicated this resource includes assets from Google Workspace (e.g. docs, slides, etc.).
Description
Are you looking for a fun & engaging activity to review vocabulary with your 6th Grade or Upper Elementary students? Check out BalloonPop™! BalloonPop™ is a no-prep digital review game with both whole class & single-player options for centers, homework, early-finishers, test review, and more.
The games are aligned to the Common Core Standards for 6th Grade.
The question types include:
Context Clues (connotations & denotations)
Affixes
Figurative Language (Personification, Hyperbole, Similes & Metaphors)
What is included in this resource?
2 thirty question PowerPoint™ games
4 fifteen question Google Slides™ games
Answer keys for the 15 question games
Recording sheets
Directions for Google™ Classroom and PowerPoint™
With 2 PowerPoint™ games and 4 games for Google Slides™, your students will have plenty of practice! The PowerPoint™ games have 30 questions each. The games in Google Slides™ have 15 questions (reused from the larger games for reinforcement.)
Use these games for morning work, centers, whole class review, homework, early finishers, test prep, and more!
❤️ You'll love these games because your students will ask to play them again and again - they don't even realize they are learning!
What are people saying about BalloonPop™?
⭐⭐⭐⭐⭐ "This product was a life-saver when I had to teach from home due to covid, but it would work just as well if I were in the classroom with my students! We used this to review for a test, and my students found it to be engaging and fun... I also love that there are multiple games because my students definitely wanted to play again!" Alyson S.
⭐⭐⭐⭐⭐ "The slides are easy to use as well as for the students to follow! The games are engaging and made reviewing so much fun! Thank you for making such a wonderful product!" Angela K
⭐⭐⭐⭐⭐ "This is a great resource for morning work!" Lisa R.
⭐⭐⭐⭐⭐ "My students loved this resource to practice skills as their daily centers. I used all four versions to help them review before state testing. SO fun! Was all I kept hearing. Thank you!!!" Michele R.
How to Play
BalloonPop™ is a fun way to review skills using a device. The games are compatible with computers, tablets, laptops, and even phones. The PowerPoint™ games only work on a device with a mouse or trackpad, but the Google Slides™ games work on any device in Google Slides™.
Students answer multiple choice questions and pop a balloon when they answer correctly. The game can be single player, multiplayer, or even used by teams!
How do the games work?
BalloonPop™ is self-correcting and self-paced. As students play, they are returned to the question to try again after an incorrect answer. After a correct answer, students can select a balloon and "pop" it to earn points in PowerPoint™. In Google Slides™, they are rewarded with a gif of a popping balloon.
The PowerPoint™ questions were also used to make the Google Slides™ games. The questions were divided into two 15 question games so students could complete a game during center time, morning work, early finisher activity, or even for homework. The games can be used both in the classroom and at home for distance learning.
With two game sets included (each set includes 1 PowerPoint™ and 2 Google Slides™), teachers have a lot of options and flexibility for using the games with their students.
Which Devices are Compatible with BalloonPop™?
BalloonPop™ is compatible with PCs and Macs, as well as tablets and smartphones.
However, the PowerPoint™ animated games must be played in PowerPoint™ with either a mouse or trackpad. It does work with the free PowerPoint™ app.
The Google™ Slides games can be played on PCs, Macs, Chromebooks, tablets, iPads™, or smartphones in Google slides.
______________________________
Need More BalloonPop™ Games?
Would you like more BalloonPop™ Games? Check out these money-saving bundles:
➜ Grammar Games
➜ Math Games
➜ Phonics Games
______________________________
Copyright ©️ Amy Mezni
Permission to use with a single classroom only (one teacher).
Please purchase additional licenses if you intend to share this resource.
Report this resource to TPT
Standards
to see state-specific standards (only available in the US).
Determine or clarify the meaning of unknown and multiple-meaning words and phrases based on grade 6 reading and content, choosing flexibly from a range of strategies.
Use context (e.g., the overall meaning of a sentence or paragraph; a word's position or function in a sentence) as a clue to the meaning of a word or phrase.
Use common, grade-appropriate Greek or Latin affixes and roots as clues to the meaning of a word (e.g., audience, auditory, audible).
Demonstrate understanding of figurative language, word relationships, and nuances in word meanings.
Interpret figures of speech (e.g., personification) in context.