75 Props for Teaching Kids English Online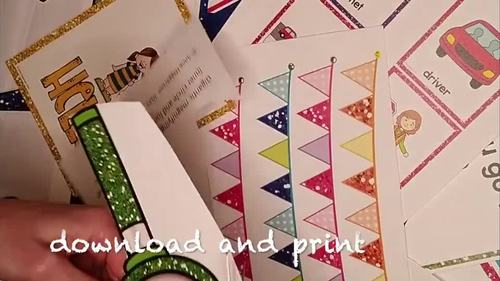 ;
What educators are saying
This product has been perfect for use in my online classroom. It's excellent quality and has tons of uses!
Also included in
This is a bundle of colorful, adorable props to use in your online classes with young learners. These resources are amazing to print out and use in your online classes. The flash cards are made on 8.5 x11 paper, but you can print them in a range of sizes.Printing on color and card-stock can get expe

Price $17.95

Original Price $22.95

Save $5.00
Description
Go from running around your house chaotically searching for props for your online classes to having them right at your fingertips. Go from 3 or 4 star reviews to raving 5 star reviews with this digital download that offers 75+ amazing props to enhance engagement in your online classes.
Do you teach English online for one of the major online ESL companies: Magic Ears, VIP Kid, Whales English, Bling ABC, GoGoKid, Outschool, Cambly, itutorgroup, DaDa, Palfish, SayABC, Qkids...?
✅Most of these companies require secondary props and your teaching is based on your ratings and reviews. Once I started using more professional, better looking props like these, my ratings went up significantly. Parents love to see teachers who are prepared and organized and who are well-planned. These props will help you move up the ladder and improve your online teaching experience. What are your goals?
Instead of running around your house searching high and low for props, you can get them easily and quickly. You save so much time.
❤️ I am convinced props like these are essential to reaching your highest goals as an online teacher, which will lead to greater pay and higher job satisfaction. It is important to have fantastic props to keep the energy up in the classroom and to create a better connection with the children you teach.
This is a resource for teachers who love teaching English to kids online. This is a kit is both for teachers who are just getting started teaching online and for experienced, seasoned online teacher who want to up-level their props.
This resource contains the following props, flash cards, and games:
⍰ 2 colored question marks to elicit questions
✏️A cute, gigantic pencil to help students "circle" an object on the screen
Flashcards for: Hello, Nice to meet you, Goodbye, How old are you? What is your name?
⭐️A star
❤️A big smiling heart
a big magnifying glass
⭐️stars that say "well done" "fantastic" "great job" "Awesome" and and "angry star"
A girl
A boy
A student
A rainbow
An apple
purple, blue, gold, and red glitter microphones
✅A green "correct" sign
A red "incorrect" sign
A sad, crying emoji
A happy bunny emoji
Additional emojis: angry, sick, I like it, I don't like it, funny, wink, kisses, cool, scared, tired
↻A circle sign with a mouse illustrating how to circle
A "click" on screen and "click" with mouse sign
A "drag and drop" sign
A "draw a line" sign
An "I can't hear you" sign
External Rewards: Some sweet clip art and a "Sweet Rewards" spinner with treats and sweets (students select a number and you reveal the sweet treat)
glitter ice cream reward
Carrots and bunny props
Flash cards for the colors: blue, green, orange, pink, purple, black, white, red, yellow
A color wheel extension: What's your favorite color?
The seasons flashcards
☀️A seasons extension wheel: What's your favorite season?
The shapes: Triangle, square, rectangle, circle, pentagon, hexagon, diamond, octagon
A "Stop" and "Go" sign and a big traffic light and game ideas
Voices and directions to make a "wheel of fun" spinner to have kids repeat words in silly voices
Family member flashcards
A Days of the Week extension poster
Numbers: 1-15
Toys flashcards: ball, puzzle, blocks, car, teddy bear, robot, train, Rubik's cube, doll, bike, truck, bus
Holiday flashcards: Halloween, Christmas, Easter, Thanksgiving
Flash cards: Good morning, morning, good night, night, star, dream flashcards, book, books, friend, bedroom, bed, kitchen, fridge, bathroom, living room, laundry room, office
6 bonus teaching tips to spice up your online classroom with kids
A teacher sign template available in Canva for you to make your own classroom sign (you only need the free version of Canva).
If you like this set, you might also be interested in:
*the alphabet flashards, the animal flashcards, the weather flashcards + extensions
⭐️⭐️⭐️⭐️⭐️If you've enjoyed using this product, please leave feedback. Leaving feedback leaves you points towards FREE TPT purchases and I love hearing from my fellow teachers. Follow me and be notified when new products are uploaded.
Report this resource to TPT
Standards
to see state-specific standards (only available in the US).
Count to 100 by ones and by tens.
Count forward beginning from a given number within the known sequence (instead of having to begin at 1).
Write numbers from 0 to 20. Represent a number of objects with a written numeral 0-20 (with 0 representing a count of no objects).
Demonstrate command of the conventions of standard English grammar and usage when writing or speaking.
Demonstrate command of the conventions of standard English capitalization, punctuation, and spelling when writing.