8th Grade Math Bundle ~ All My 8th Grade Math Products at 1 Low Price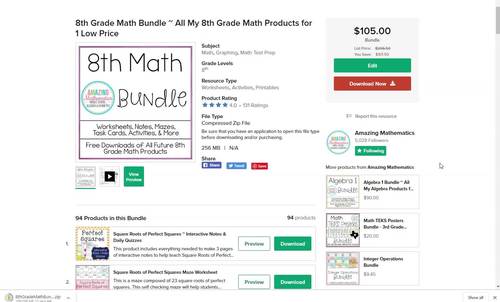 ;
Zip

Google Apps™
Includes Google Apps™
This bundle contains one or more resources with Google apps (e.g. docs, slides, etc.).
Easel Activities Included
Some resources in this bundle include ready-to-use interactive activities that students can complete on any device. 
Easel by TPT is free to use!
Learn more
.
Products in this Bundle (98)
showing 1-5 of 98 products
Bonus
8th Math Bundle - Organized into Folders
Description
This bundle includes all the notes, worksheets, & activities in my store that pertain to 8th Grade Mathematics.
Does this Include Digital Resources?
As of May 2023 over 80% of this bundle includes a digital Google Slides or Forms option.
Please view the preview to view the content list & which resources include a digital option. All digital resources are in bold and have a check mark next to them.
I'm working as fast as possible to convert existing resources to digital. As resources are converted to digital this bundle will be updated to include the updated digital version.
Important Information
Due to how TPT auto-creates bundles this will download as one un-organized folder of resources. Simply open the bonus file to access a version that's already been sorted into folders for you.
All Future Products for Free
This product is updated at least once a month to include any new 8th Grade Math products that have been added to my store. The price of this bundle will continue to rise as more products are added to it but your purchase of it gives you all these new 8th Grade Math products for free. To access the new 8th Grade Math products simply re-download the bundle on Teachers Pay Teachers (you will not have to pay again).
Included Formats
All included resources have a printable PDF version. A digital Google Slides/Form version is also included with some resources. Please view the preview to view the content list & which resources include a digital option.
Real Numbers
Scientific Notation
Equations with Variables on Both Sides
Inequalities With Variables on Both Sides
Proportional & Non-Proportional Relationships
Common Core Note - The rest of the systems activities for other methods of solving are listed a few categories lower
Writing Linear Equations
Functions
Systems of Linear Equations
By Graphing is included above with Non-Proportional Relationships
Angle Relationships in Parallel Lines & Triangles
Pythagorean Theorem & Distance Between Two Points
Volume
Surface Area
Transformations
Scatter Plots & Trend Lines
Mean Absolute Deviation
Personal Financial Literacy
Year Long & Multi-Topic Resources
Find the resource you need quickly & easily....
Download the FREE Amazing Mathematics Resource Catalog Today!
-------------------------------------------------------------------------------------------------------
Sign up for my Secondary Math Newsletter
to receive a Free Pi-Rate Plotting Points picture.
-------------------------------------------------------------------------------------------------------
©Copyright Amazing Mathematics LLC
This product is to be used by the original purchaser only.
This product can NOT be uploaded to the internet by the purchaser.
Doing so is a violation of the copyright of this product.
Copying for more than one teacher, or for an entire department, school,
or school system is prohibited.
This product may not be distributed or displayed digitally for public view, uploaded to school or district websites, distributed via email, or submitted to file sharing sites.
The unauthorized reproduction or distribution of a copyrighted work is illegal.
Criminal copyright infringement, including infringement without monetary gain, is investigated by the FBI and is punishable by fines and federal imprisonment.
Report this resource to TPT