A Bee All About Me, Back to School Art and Writing Icebreaker Activity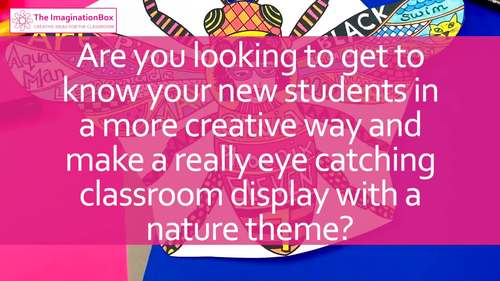 ;
What educators are saying
Thank you for this great resource! This was a very fun art project for my 4th grader! She really loves bees so that was a huge plus! Would love to see more of this style in the future. Thank you!
Such a great start of the year activity! It was accommodating for all my students, both those who like art and those who don't. It is a permanent fixture on my desk for all to see!
Also included in
Get to know your new students! This relatable Back to School Art, Writing and Classroom Decor Bundle includes three engaging getting to know you, all about me activities, and a useful growth mindset freebie.Students can express their uniqueness, reflect and set goals, whilst learning more about thei

Price $8.70

Original Price $11.65

Save $2.95

Use these relatable 'All About Me' activities to learn more about your new students. Encourage them to express their individuality, set goals, share their views, likes and dislikes, gently and creatively.These back to school art and writing resources are ideal for use as first week back getting to k

Price $18.25

Original Price $24.35

Save $6.10

These 'All About Me' imaginative art and writing resources are ideal for use as getting to know you activities or as art specific lessons at both the beginning and end of year.Save 25% with this detailed 310 page bundle offer.Learn more about your students in a fun way and encourage them to express

Price $27.00

Original Price $38.80

Save $11.80

Make the first week back to school fun! This bundle contains twenty 'All About Me' art and writing resources. These activities are ideal for Grades 5-8 and are suitable for engaging both boys and girls, reflecting current tech and fashion trends, hobbies and interests of this 'tween' age group.Save

Price $53.30

Original Price $71.15

Save $17.85
Description
Create a back to school buzz in the classroom with this eye catching 'Bee About Me' doodle art and decor activity!
This is an ideal creative first week back to school getting to know you ice breaker for both boys and girls. It's a really unique way for teachers and students to learn more about each other.
Invite students to respond to the prompts and questions in a personal and imaginative way, using doodles, words and illustrations to create beautiful bees, reflecting their uniqueness.
A Bee About Me Design Activity:
With a variety of template options to choose from, prompts include:
Self portrait, name, age, grade, favorite color, subject, book, sport, film, singer...
Posters and Garlands:
The packet includes posters and honeycomb garlands to make the classroom colorful and inspiring.
Early Finisher Activities:
Doodle pages
Collaborative honeycomb wall art activity
Photographs of Finished Examples:
Photographs of completed examples are included in the packet, use a black ball point pen and colored markers to create a modern, illustrative style to appeal to slightly older children, grade 5+

The Bee templates are designed to fit US Letter and A4 paper size for printing.
The finished Bees make a fabulous display, on the bulletin board or pegged up on a line as a garland.
You might like to view my collection of creative Back to School resources or click on the resource links below:
Connect with Diane @ The ImaginationBox
regular new art ideas on facebook
follow me on pinterest for inspiration
All original artwork ©The ImaginationBox/Diane Pagan 2019
Follow my store on TPT to receive notification of new products, where I will be offering a 50% discount for the first 48 hours after they are posted.
Don't forget to leave feedback on resources - you will earn points towards your next TPT purchases :-)
Please contact me if you have any questions regarding this resource, I am always keen to help,
Thanks!
Diane
Teaching Duration
Lifelong tool
Report this resource to TPT