A Christmas Carol Digital Escape Room | Reading Comprehension Game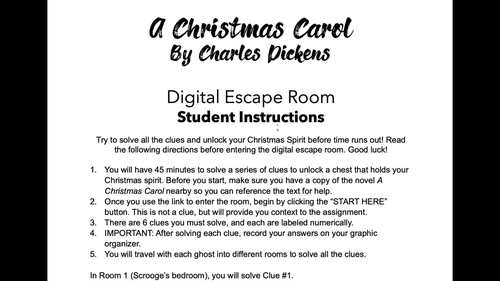 ;
Compatible with Digital Devices
The Teacher-Author has indicated that this resource can be used for device-based learning.
Also included in
This resource includes FIVE FULL WEEKS of content for the novella A Christmas Carol by Charles Dickens. Additionally, in this UNIT PLAN BUNDLE, you will receive a teacher guide that encompasses an example Unit Schedule/ Pacing Guide!You can purchase each lesson individually (listed below) or save mo

Price $19.99

Original Price $32.87

Save $12.88
Description
Are you READY to unlock your Christmas Spirit!!!? Bah, Humbug no more...
Your students are going to love deciphering and solving puzzles in this festive and spooky 360° digital escape room themed activity! Students must unlock a chest that holds their Christmas spirit. In order to do so, they will travel through the past, the present, and the future... meeting three ghosts along the way! There are FIVE awesome escape room scenes in this one activity, so students really get the feel that they are traveling through time!

This activity is designed to work for a laptop, tablet, or smart phone. Students will solve a series of clues based on the novel A Christmas Carol by Charles Dickens in order to crack the master lock and release their Christmas spirit. This game requires reading comprehension skills; students must find textual evidence to solve the puzzles. Watch the video preview to get a closer look at the clues and the rooms!

This activity is created for after reading the novel A Christmas Carol, and is best utilized near the end of a unit as a review or just for fun!

Included in this download are teacher instructions, student instructions, clue graphic organizer, answer keys, and a reflection sheet.

Check out these fun Escape Room Photo Props to make the experience complete!

You may also like!

PLEASE READ: While using this resource, you must have a wi-fi connection and the ability to access the following sites: Google Forms and Kuula.co. Please check that these websites are not blocked by your district's filter before purchasing. Your students do not need to have a Google account.
Teaching Duration
50 minutes
Report this resource to TPT
Standards
to see state-specific standards (only available in the US).
Cite several pieces of textual evidence to support analysis of what the text says explicitly as well as inferences drawn from the text.
Determine a theme or central idea of a text and analyze its development over the course of the text; provide an objective summary of the text.
Analyze how particular elements of a story or drama interact (e.g., how setting shapes the characters or plot).
Analyze how an author develops and contrasts the points of view of different characters or narrators in a text.
By the end of the year, read and comprehend literature, including stories, dramas, and poems, in the grades 6–8 text complexity band proficiently, with scaffolding as needed at the high end of the range.