AAC Core Vocabulary Activities Starter Kit Bundle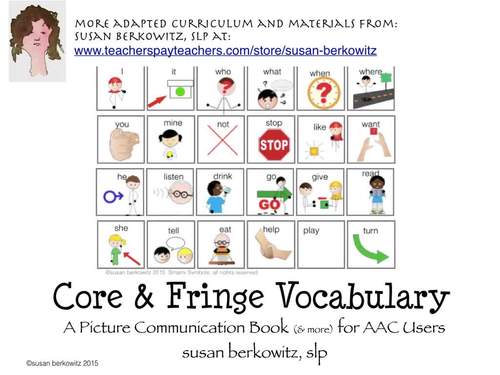 ;
What educators are saying
This is a great resource! It has a lot of helpful materials for getting started with AAC and focusing on core vocab.
This packet is awesome and has everything you need to work on core words. Great in therapy and in the classroom!
Products in this Bundle (8)
showing 1-5 of 8 products
Also included in
Are you looking for a curriculum for your AAC users that builds core word use, formulation of phrases and sentences, formulation of narratives, and touches on writing skills? Feel confident implementing core vocabulary with your nonverbal and minimally verbal students.This time and money-saving bund

Price $574.90

Original Price $703.50

Save $128.60
Description
If you're looking for core vocabulary activities for your beginning AAC users, this resource is for you. This AAC Starter Kit resource is for you to get started with implementing core words now, even if you don't know a lot about AAC! Support alternative communicators with core words in your speech therapy or special education groups.
Use with your augmentative communication users as well as your nonverbal or minimally verbal students
Containing everything you need to begin to support an emergent communicator; this resource has:

• robust core and fringe word picture communication book that goes into a 3-ring binder & contains 2 different core word boards plus 35+ pages of vocabulary

• bundle of my "teach me...core words" resources with activity simulations and role play activities for interactive and engaging practice of using core words

• 3 fun games for practicing finding, combining, and using core words

• 10 Weeks to 40 Core Words uses interactive books and more engaging activities that provide opportunities for students to use the core words from the DLM 40.
A year's worth of AAC materials done for you in one neat money-saving bundle!

Buyers like you have said:
⭐⭐⭐⭐⭐ Seriously. Thank you for the time you put into making these resources and thank you for bundling them together. I feel like I am prepared now to use these to expand my students' vocabulary. I know you're an expert in the field and I feel like these resources you have put a lot of time and heart into. Also, they are so incredibly comprehensive and include data collection as well as information on how to use them, and so much more. Thank you again.

⭐⭐⭐⭐⭐ Great resource! This is great for beginners and seasoned professionals!

⭐⭐⭐⭐⭐ An exceptional product! An easy and functional way to get started with AAC.
This packet is awesome and has everything you need to work on core words. Great in therapy and in the classroom!
You can find all the components here:
10 Weeks to Communicating with 40 Core Words
Core and Fringe Word Communication Book
Teach Me Core Words 3-resource bundle
Bundle price of all these resources is 20% off the list price if you purchased them all separately.

Related Products
• AAC Core Vocabulary Bundle 5 sets of Interactive Books for Speech Therapy
• AAC Core Vocabulary Negation Interactive Books Bundle
• AAC Core Vocabulary Thematic Activities Seasonal Bundle for Speech Therapy
©susan berkowitz
Permission to print/copy for your caseload only.
Report this resource to TPT