ABC Phonics I Have Who Has Activity ESL ELL Newcomer Game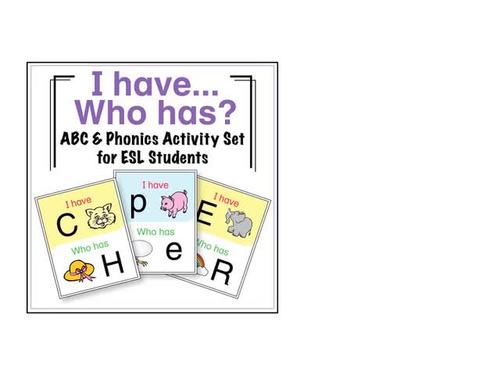 ;
What educators are saying
My students loved this game! It's such a simple and fun way to keep them engaged while talking about letters. They wanted to play it again immediately after finishing it the first time!
Also included in
This Kids Giga-Bundle for beginning ESL students has everything you need - Textbooks, Charts, Flash Cards, Games, and Activities - all at 30% off! Whether you're a new teacher or a veteran in the classroom, you'll love this solid Pre-K thru 2nd grade ESL program! Check out all the previews above t

Price $91.00

Original Price $141.50

Save $50.50

Reading begins with the ABCs! The focus of ABC & Phonics, Book 1, is to give ESL students a solid understanding of the ABCs and their associated phonic sounds - step by step. The full textbook includes challenging exercises, puzzles, games, and review pages to ground students in phonetic-based l

Price $29.20

Original Price $40.50

Save $11.30

Have the perfect I Have / Who Has activity for all your English language classes, preschool through adult! Be sure to check out all the previews!

Price $32.90

Original Price $47.00

Save $14.10
Description
ABC & Phonics I Have Who Has games are perfect for your youngest students and promote reading, speaking, and listening! The print-ready pdf file includes four color-coded games divided by upper and lower-case letters. Also included are two ABC Charts, perfect for tacking to a classroom board or directly in student notebooks. Be sure to check out the video and preview to see all this activity set has to offer!
I Have Who Has activities are great for large or small groups and are very easy to play. Simply deal the cards out and arrange them face-up on the table. Players must be able to see all of their cards.
These cards have designated "Begin" and "End" cards. The player with the "Begin" card reads her card first. Whoever has the next card reads that one and so forth. After reading a card aloud, it is turned over. The game is finished when the player with the "End" card reads his card.
Be sure to check out my blog post about making I Have Who Has activities walk across the room!
If you are interested in more ABC & Phonics practice, check out the links below!
ABC & Phonics, Book 1 Flashcards
ABC Bingo 1 Free!
Click on the green star near my logo to follow my TpT store and receive notifications of new product releases, sales, and special deals!
Did you know you can get credits to use on any purchase in any TpT store just by leaving feedback? After you've used a product from a TpT seller, please take a minute to return to leave feedback. It's very much appreciated and it's an easy way to earn credits that save you money on your next purchase!
Report this resource to TPT