ALG 8 FONT BUNDLE By Lisa Goodell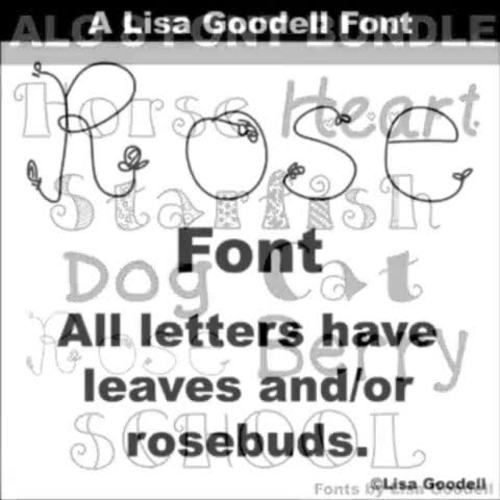 ;
Products in this Bundle (8)
showing 1-5 of 8 products
Description
This font bundle includes 8 different fonts. Please check out the preview for each individual font to see 10+ pages of samples in different sizes. This bundle is complete with 8 fonts, it is not a growing bundle.
After downloading, each font must be installed (on most Windows and Macs just open the file, and then click the "install" button.) If the font doesn't show up right away, you might have to either 1) exit out of any open applications/programs, and 2) restart your computer.
Font Terms of Use: All rights reserved. All font designs and images are the creative property of Lisa Goodell. This font may be used for personal, educational, and small business commercial use in your Teachers Pay Teachers resources. Fonts/glyphs cannot be sold, given away, or distributed alone, but must be incorporated into your own original product that you sell. The font must be secured in a PDF. No additional licenses are required at this time. If you choose to use this font commercially, I would really appreciate it if you could give credit with my logo or link back to my Teachers Pay Teachers store.
***********************************************
GET THE MOST OUT OF MY STORE
Personalized Customer Service:
Go to the Ask a Question tab in my store to ask a question before buying or to let me know of an error. I am committed to responding ASAP when I'm not teaching.
Be the First to Know About New Products and Sales:
►Click here to follow my store. TpT will notify you when new resources are available, plus you can get 50% off if you purchase in the first 24 hours!! It pays to follow me!
►Go to the Profile tab to connect with me on social media - get freebies, teaching tips and enter give-a-ways.
How to Get TpT Credits to Save Money on Future Purchases:
Please go to your My Purchases page when you are logged in. Next to each purchase you will see a Provide Feedback button. Just click it and you can then leave a quick rating and comment. Each time you give feedback, TpT gives you credits that you can use to lower the cost of future purchases during Checkout. Everyone loves getting a discount!!
Let's Connect on Social Media:
Look under the Profile tab to find my blog and social media links.
Thanks for looking and have a great day! -Lisa Goodell
Report this resource to TPT