A.N.T.H.E.M. A Superhero Practice Incentive Music Program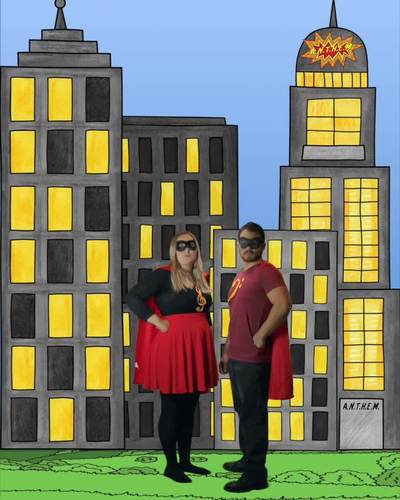 ;
Description
A.N.T.H.E.M. is looking for music superhero recruits! A.N.T.H.E.M. stands for Apprentice Now Training for Heroic Effort in Music. The focus of Anthem is musicianship skills with a growth mindset.
Students will train and work on 8 mission assignments earning musical "superpowers" throughout the year in a growth mindset setting.
The A.N.T.H.E.M. mission assignments will be related to everything that makes our music shine. (Technique, notes, rhythm, dynamics, articulations, hearing, sight-reading and performance, etc...)
While each mission assignment will have a specific superpower they are working towards, how that assignment is passed is up to the teacher. The mentors will give a general introduction to what the superpower is and then you will give a more specific assignment.
For example, the first mission assignment is to work on their super strength. As the teacher, you can determine what that means in your studio. Does it mean strong technique (proper position, playing, etc.) Or do you want them to accomplish certain scales and arpeggios?
Students will choose a super mentor who will encourage them along their mission. (Mentor support is through videos they watch through the mission cards. See preview video for the introduction example.) The end goal is for them to complete the A.N.T.H.E.M. training program and become a music superhero.
Read more information on the blog
A.N.T.H.E.M. A Superhero Practice Incentive Music Program
Watch these videos for an inside look at the program.
A.N.T.H.E.M. An Inside Look (20 min)
A.N.T.H.E.M. (35 sec)
A.N.T.H.E.M. Behind the Scenes (44 sec)
⭐⭐⭐IMPORTANT ANNOUNCEMENT!⭐⭐⭐
As of January 2020- HP Reveal is no longer available. QR codes will be used instead. Read more on the blog here.
In this program you will receive the following:
A.N.T.H.E.M. Instructions
A.N.T.H.E.M.. Assignment Sheet (can be printed along with the student book)
A.N.T.H.E.M. Certificate
A.N.T.H.E.M. Décor (2 files)
A.N.T.H.E.M. Mission cards (mission assignment instructions)
A.N.T.H.E.M. Mission Tags
A.N.T.H.E.M. Progress Log
A.N.T.H.E.M. Student Book (2 printing options)
Super Hero Growth Mindset Posters (40 options)
Super Hero Practice Chart
Super Hero Getting to Know You
Super Hero Themed Treat Toppers (Birthday & student of the month)
Recommended Resources
⭐ The Sheet Music Heist (Music Camp or Workshop)
⭐ Music Is My Superpower Shield FREEBIE
⭐ Musicathlon
⭐ You're A Star! (A Practice Incentive Program)
⭐ The Magical Lute; A Musical Quest BASIC EDITION
⭐ The Magical Lute; A Musical Quest DELUXE EDITION
⭐ Reach Beyond the Stars Practice Incentive Program
⭐ Magic of Music Incentive Program
⭐ Calliope Musical Circus Incentive Program
Be sure to follow me on TpT to stay updated on discounts and freebies. As always, I give 20% off products the first 24 hours they are available!
Visit my blog and join my email list for monthly freebies: MusicEducatorResources blog
Like on Facebook: MusicEducatorResources Facebook
Report this resource to TPT