APT/HI-S: Prueba de percepción auditiva para personas con discapacidad auditiva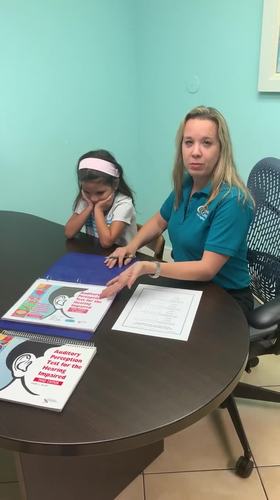 ;
Description
Can be printed or used as digital-no print!
This product is the complete Spanish-adapted version of Susan G. Allen's Auditory Perception Test for the Hearing Impaired (APT/HI) Third Edition, which includes bilingual (English/Spanish) directions. It is a valuable resource for accurately determining the auditory perception abilities of people in Spanish. Contents include: Picture Plate Book (94 pages), Record Form (27 pages), Spanish Manual (25 pages), and English Manual (23 pages).
The APT/HI-S, adapted by Alliete Alfano, is a complete Spanish speech perception test that assesses speech perception in people with hearing loss, ages 3 and older. It tests all levels of speech perception (i.e., detection, discrimination, identification, and comprehension) of the Spanish language. The information in this assessment provides vital information to assist you in documenting function and track progress through a person's listening journey. This allow you to prepare functional speech perception goals for evaluations/plans of care to be used in intervention and an objective way to measure progress over time. Specific areas of assessment (in the 94-page plate book) are:
Auditory Awareness
Duration, Intensity, and Pitch Identification
Prosodic Perception
Vowel Perception
Consonant Perception
Other Segmental Perception
Linguistic Perception
Communicative Comprehension
Se puede imprimir o usar como digital-sin impresión!
Este paquete es la adaptación al español de la Auditory Perception Test for the Hearing Impaired (APT/HI) Third Edition de Susan G. Allen, que incluye direcciones bilingües (en ingles y español). Es un recurso valioso para determinar con precisión las capacidades de percepción auditiva de las personas en español. Los contenidos incluyen: el libro de láminas (94 páginas), el registro (27 páginas), el manual el español (25 páginas), y el manual en ingles (23 páginas).
La APT/HI-S, adaptada por Alliete Alfano, es una prueba completa de percepción del habla en español que evalúa la percepción del habla en personas con pérdida auditiva, de 3 años en adelante. La APT/HI-S evalúe todos los niveles de percepción del habla (es decir, detección, discriminación, identificación y comprensión) de español. La información en esta evaluación proporciona información vital para ayudar a documentar la función y hacer un seguimiento del progreso a través del viaje de escucha de una persona. Esto le permite preparar objetivos funcionales de percepción del habla para las evaluaciones/planes de atención que se utilizarán en la intervención y una manera objetiva de medir el progreso a lo largo del tiempo. Las áreas específicas de evaluación (en el libro de láminas de 94 páginas) son:
Conciencia auditiva
Identificación de duración, tono e intensidad
Percepción prosódica
Percepción de vocales
Percepción de consonantes
Percepción de otros segmentos
Percepción lingüística
Comprensión comunicativa
Report this resource to TPT