ARRAY MINI-UNIT FOR BEGINNERS WITH INTERACTIVE ACTIVITIES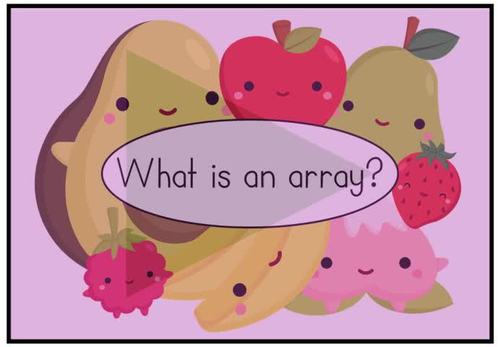 ;
Description
Are you introducing your students to multiplication? If so, this resource will be the perfect opportunity for students to build their conceptual understanding of multiplication!
This mini-unit contains over 200 slides and worksheets!!! You can assign it as a task through Google Classroom or other similar platforms like SeeSaw.
- Instructions (x1 page)
- A PowerPoint presentation introducing arrays (x24 slides or convert to PDF and print as posters!)
- Complete the missing part PowerPoint activities (x136 slides or convert to PDF and print!)
- : Interactive PowerPoint activity (x16 slides)
- Array matching puzzles (x40 pages)
- Mixed worksheets (x18 pages)
- A blank template (x1 page)
This mini-unit is aimed at building a foundational understanding of multiplication for second grade students, by reinforcing the pictorial representation of arrays, including the written form, the factors and repeated addition! This unit can also be used as an intervention for older students who require further consolidation in this area.
Australia Curriculum: Numeracy Year 2
Recognise and represent multiplication as repeated addition, groups and arrays (ACMNA031).
Head on over to my Instagram account @_miss_carlee_ and follow me to see regular classroom inspo, resources and teacher wellbeing!
I am also on Facebook and post my new products and videos there too!
P.S. Don't forget to tag me in on your creations @_miss_carlee_ as I would love to see how you've used this resource!
A QUICK TIP FOR YOU...
Did you know that you can earn TpT credits to use for future purchases? Go to your 'My Purchases' page and next to each product that you've already purchased, you will notice a 'Provide Feedback' button. Click on it and take a minute to provide some positive feedback! Every time you do this, TpT rewards you with credits, which you can use as a deduction toward future purchases!
I highly value your feedback and comments. It not only warms my heart, but it helps me to determine which resources are most valuable for teachers. I always look forward to creating new products and supporting you in the classroom!
Report this resource to TPT
Standards
to see state-specific standards (only available in the US).
Use addition to find the total number of objects arranged in rectangular arrays with up to 5 rows and up to 5 columns; write an equation to express the total as a sum of equal addends.
Interpret products of whole numbers, e.g., interpret 5 × 7 as the total number of objects in 5 groups of 7 objects each. For example, describe a context in which a total number of objects can be expressed as 5 × 7.
Use multiplication and division within 100 to solve word problems in situations involving equal groups, arrays, and measurement quantities, e.g., by using drawings and equations with a symbol for the unknown number to represent the problem.