Accommodation Labels | Special Education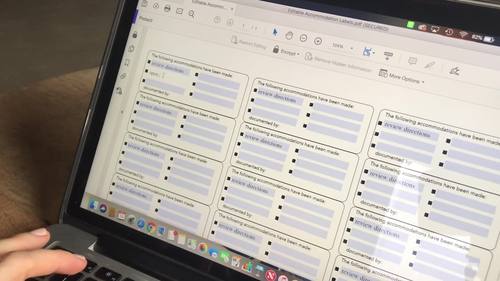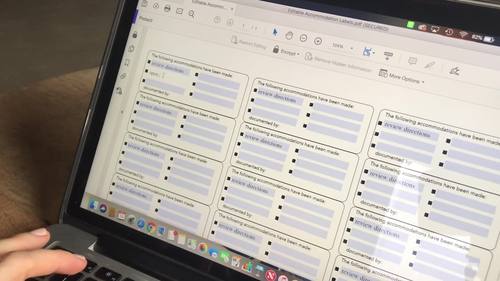 Created By
Charley's Classroom
Also included in
This custom order is for Arelle H. only.Please do not purchase unless you are Arelle H.Thank you!:)All resources are included, as discussed via e-mail.Want to see my resources put to use in my classroom? Check out my Blog PostsTake a Peek at my Instagram
Product Description
For years I have been writing accommodations that I have made, or the general education teacher has made, on assessments, projects, and other graded assignments. I write very small on the back of the assignment, so that the other students wouldn't be able to read/see it when the assignments were handed back to the students.
I like this method of documenting what I accommodate and the parents love it as well. I've come to the realization over the years that students - yes, even high school students - don't always know their assessments/assignment are modified due to not knowing what their classmates' assessments/assignments look like.
At the beginning of this current school year, as I was documenting accommodations made on one particular test, I realized that I was writing pretty much the same accommodations on ALL ten tests. I had to revamp my system.
Accommodation Labels are labels that list my most frequently used accommodations for tests, projects, classwork, etc. I print a few labels/pages out at the beginning of the school year and then always have them on hand when needed. I check off each accommodation that I made. I also sign my name at the bottom of the label. This has been an INCREDIBLY huge time saver.
What's Provided in This Resource:
- You will be receiving one print-&-go ready label template. This is the template I use for all classroom based assessments. This templated cannot be edited.
- You will be receiving one fill-in template. This label template can be designed by you to best fit your classroom's accommodation needs. This template cannot be edited, however, you are able to fill-in each box with the accommodations you most frequently use. I spent extra time on my end creating this, so you didn't have to!
For the Print-&-Go Template:
I have included my most commonly used accommodations for classroom based assessments.
Accommodations included are:
- review of directions
- open notes/book/etc.
- reduced choices
- word bank
- calculator/computer
- answers dictated
- test read orally
- rephrased questions
- small group
- extended time
For the Fill-In Template:
I have designed this template to be fill-able. Once you type in the first box on one label, it will appear in the first box on each label (watch the video preview to see just how easy I made it for you to use). Make as many accommodation labels/pages you need by saving them each differently, for use on every assessment/assignment you are accommodating.
These were created to be used with Avery Labels 8160.
Label Size: 1" x 2 5/8"
***PLEASE look at the Preview***
You will be receiving this as two separate PDFs.
I always try to be as detailed as I can be when typing a product description, but
if you have any questions before purchasing, do not hesitate to ask!
Email: charleys.classroom13@gmail.com
Want to see this resource and others put to use in my classroom?
Teaching Duration
Lifelong tool
Report this Resource to TpT