Acorn Writing Templates BONUS Squirrel Craft - Fall Writing Bulletin Board K 1 2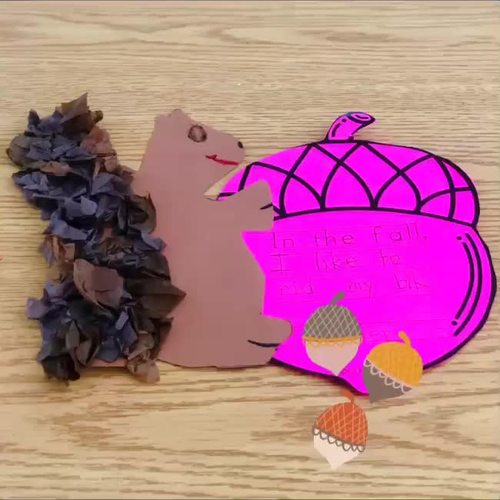 ;
Also included in
This Bulletin Board MEGA Bundle is a MUST HAVE for teachers in kindergarten, first, second, or third! This MEGA Bundle includes 10 complete packages to create AMAZING writing and craft displays every month of the school year! Each set includes differentiated writing options as well as a craft.Bull

Price $37.50

Original Price $42.50

Save $5.00

The ULTIMATE Bulletin Board MEGA Bundle includes 20 sets of craft and differentiated writing activities to use throughout the ENTIRE YEAR in kindergarten! This bundle features all differentiated writing and craft sets from both the ORIGINAL Bulletin Board MEGA Bundle and the Bulletin Board MEGA Bun

Price $65.00

Original Price $75.00

Save $10.00

I have poured my heart and soul into creating this Bulletin Board MEGA Bundle that includes 30 sets of purposeful displays featuring standards-aligned writing or math activities with a cute craft to match!Click the PREVIEW and the VIDEO PREVIEW to see all that you get in this AMAZING value...This bu

Price $99.00

Original Price $119.00

Save $20.00

Introducing the bundle of all bundles! This Bulletin Boards Mega Bundle includes 40 seasonal sets of purposeful activities that make the most amazing displays on boards, in your hallway, or on your classroom door. These resources were designed for kindergarten. Differentiated options may also be

Price $145.00

Original Price $165.50

Save $20.50
Description
Create the cutest Fall Bulletin Board with these Acorn Writing Templates! Select from 6 differentiated acorn writing templates. Pair writing with BONUS squirrel craft templates. Directions for assembly included. Perfect for Kindergarten, first, or second grade!
BEFORE YOU BUY, check out my BULLETIN BOARD MEGA BUNDLE for the ENTIRE YEAR that includes this resource and a total of 30 seasonal sets. Each resource integrates differentiated writing or math activities with a custom craft to match! BONUS display lettering is included as well. If you love a good bulletin board as much as I do, this bundle is for you! Why search for monthly activities when you can have it all in one place?! !
PRODUCT UPDATE: This file has been updated to included BONUS bulletin board lettering that reads, "We're Nuts About Fall!" Click the PREVIEW button to view how this turned out in my classroom. If you have previously purchased this set, simply download it again to receive the update!
Clipart by The Joyful Learner and Prince Padania. Fonts by AG Fonts. See product download for Terms of Use.
Thank you for looking!
Report this resource to TPT