Action Words, Imitation Skills, & Verb Task Cards for Students with Autism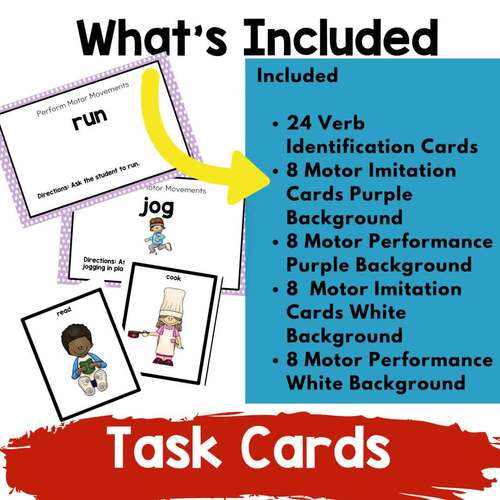 ;
Also included in
Personal Life Skills Bundle / Toileting Skills / Language Skills / Personal SkillsThese are life skills special education activities and life skills worksheets put together in a bundle.Personal Life Skills Bundle Includes a number of life skills special education activities such as:Personal Life Ski

Price $13.50

Original Price $19.00

Save $5.50

This is a compilation of the many bundles in my store. 106 products included in the bundle. No need to search from page to page. It is all on one place.These are the bundles you will get when you grab this deal: Printables Mega Skills Bundle (Includes: Social Skills Bundle, Personal Life Skills B

Price $167.00

Original Price $249.25

Save $82.25
Description
Updated November 2020 with new fonts. Teach motor imitation, motor performance, and verb identification with Action Words (Verb) Task Cards for Students with Autism.
If you think this is something you could use for students with limited imitation skills please provide feedback. Or if this could help your centers and 1:1 work run better by making it easier for 1:1 assistants to implement lessons, let us know by writing a quick comment.
These task cards are for working on identifying verbs, imitating verb actions and performing verb actions when given a verbal direction.

The cards are designed for anyone trying to teach imitation skills. They will provide the adult working with the child a visual reminder of the activity to work on with the child. They can also be used for individuals looking to structure their teaching of imitation skill to students with autism.

The verb identification pages have 4 cards. One set with words and one set without words.
For the task card pages (one purple background and one plain background), each page holds two cards that can be laminated and cut in half to make two task cards -one for Motor Imitation and one for Motor Performance.
Typically, all of the motor imitation cards are taught first before moving on to the harder skill of Motor Performance.
Other Products
Special Education & Autism Interactive Notebook – Play Skills (Part 1).
Social Skills Printables for Students with Autism & Similar Special Needs.
I Will Try Statements- Social Skills Support Posters (Rules - Elementary).
Special Education (Verb Question Cards for Autism and Special & Early Education).
More from Autism Classroom
Social Skills and Play Skills.
Sight Word and CVC Word Skills.
©Autism Classroom 2014. This license is for the purchaser of this product and may not be distributed electronically except for use in the purchaser's classroom. Additional licenses can be purchased through TPT.
Report this resource to TPT