Ada's Violin Book Companion | Main Idea and Theme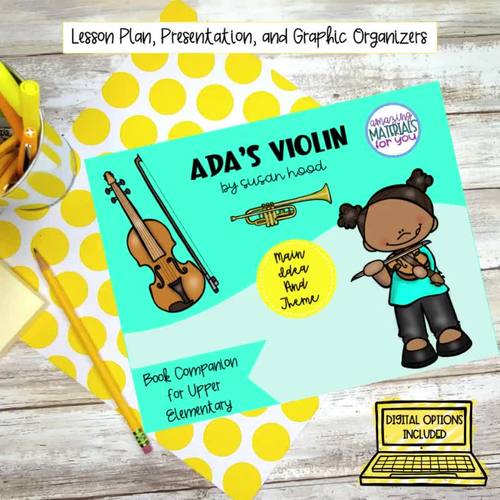 ;
Zip

Google Apps™
Includes Google Apps™
The Teacher-Author indicated this resource includes assets from Google Workspace (e.g. docs, slides, etc.).
Also included in
This narrative nonfiction book companion BUNDLE features 12 complete lessons that include objectives, learning targets, discussion cards, DIGITAL and PRINTABLE graphic organizers for every lesson, and Google Form™ exit tickets for every lesson. I have taught all of these lessons successfully and hav

Price $26.25

Original Price $37.50

Save $11.25

Are you looking for lessons that use a wonderful mentor text (not included) and include analysis of character traits and feelings, vocabulary, comparing and contrasting narrative nonfiction with nonfiction and narrative, identification of main idea and topics, determining theme, and MORE? Look no fu

Price $4.20

Original Price $6.00

Save $1.80
Description
This comprehensive book companion includes a slide presentation, printable booklets (in black and white and color), graphic organizers, discussion cards, and a lesson plan. In addition to printable options, it contains digital options for Google™ slides and a Google™ form. Students will use graphic organizers to respond to the book Ada's Violin by identifying the main idea, topics, and theme that are found in the book and will complete an exit ticket about main idea and theme to demonstrate understanding.
Finding the main idea and the theme of a text can be challenging. I find that repeated teacher modeling and student practice helps considerably! I like to emphasize that there is an element of opinion in a theme whereas a main idea is a statement or very short summary of a work.
Ada's Violin, by Susan Hood is a great text to use for determining both main idea and theme. In this presentation, teachers and students are guided to find both. You can also add a very brief geography connection by having students find Paraguay on a world map or globe. In addition, I have included a list of vocabulary words for discussion before reading.
This resource now includes more options for distance learning.
Students love learning about real people and their stories of perseverance and triumph. Children can never have too many role models!
This lesson is aligned with Common Core State Standards (CCSS) as well as Virginia SOLs.
The book is NOT included.
Included in Narrative Nonfiction Bundle
Subscribe to my newsletter for exclusive monthly freebies and updates.
Blog Post 11/20/2017
Report this resource to TPT
Standards
to see state-specific standards (only available in the US).
Quote accurately from a text when explaining what the text says explicitly and when drawing inferences from the text.
Determine a theme of a story, drama, or poem from details in the text, including how characters in a story or drama respond to challenges or how the speaker in a poem reflects upon a topic; summarize the text.
Quote accurately from a text when explaining what the text says explicitly and when drawing inferences from the text.
Determine two or more main ideas of a text and explain how they are supported by key details; summarize the text.
Write opinion pieces on topics or texts, supporting a point of view with reasons and information.