Add Subtract Multiply and Divide Integers | Digital Escape Stuck in the 80s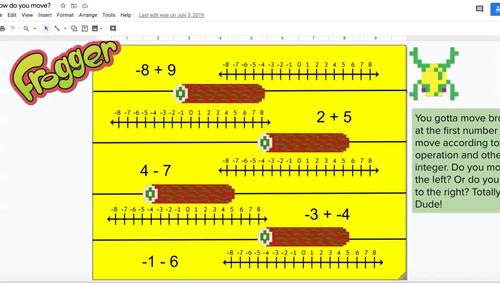 ;
PDF

Google Apps™
Includes Google Apps™
The Teacher-Author indicated this resource includes assets from Google Workspace (e.g. docs, slides, etc.).
Also included in
Do you want to increase student engagement and enthusiasm while incorporating technology within math class??? Look no further then Math Chick's Interactive Math Digital Escapes that bring rigorous, meaningful math practice and quality practice in a fun and engaging way! You get 12 Digital Escapes/Br

Price $43.65

Original Price $48.50

Save $4.85
Description
Are you stuck trying to find an engaging review for ​​adding, subtracting, multiplying, and dividing integers? Break out of the mundane with this Stuck in the 80's Digital Escape Game! This engaging digital activity provides a unique and engaging alternative to traditional learning environments while reinforcing adding, subtracting, multiplying, and dividing integers. Escape games shift ownership of learning from the teacher to the student and require critical thinking, collaboration, creativity, and communication skills.
A digital escape requires no preparation of materials, no time spent setting up, and no purchase of a Breakout EDU kit. This activity is perfect for distance learning, a hybrid classroom, technology integration, review, sub plans, a fun partner activity, independent practice and so much more!
⭐  What's Included:
Escape website with links to all necessary text and media
Escape codes and explanations 
Student Sheet to Show Work
Answer Key
NEW as of 2021!! Escape version using Google Slides in case your district blocks Google Sites.
An escape or breakout is a scavenger hunt-like game where players use teamwork and critical thinking to solve a series of challenging puzzles in order to open a locked box. Breakouts or escapes can be done digitally using a Google Form. THIS ESCAPE IS DIGITAL ONLY, NO BOXES OR LOCKS NEEDED! 
To Use This Resource You Will Need To:
1. Have access to electronic devices (desktops, laptops, Chromebooks, etc.) for students to use or allow students to use their own devices. (there have been reported issues while using iPads with draggable pieces so please keep that in mind while buying)
2. Have access to the internet.
3. Have a Google Drive and Login for the Google Drive
4. Check to make sure that your school/district does not block out of domain sharing of Google Drive resources (Forms, Docs, Slides, etc.)
NUMBER 3 and 4 ARE VERY IMPORTANT! CHECK BEFORE YOU BUY!
School's Security got you blocked??? Some districts and schools block Google Sites from outside their domain, so I now include a Google Slides version of the escape! I also include the links to the forms and puzzles so that you can create your own site or embed your own links within your school's domain!!!  
___________________________________
Looking for more 6th grade Math Lessons and Activities? Check out these!
Multiply and Divide Integers Google Classroom Activity TEKS 6.3C 6.3D
Stuck in the 80s Digital Breakout Adding Subtracting Multiplying Divide Integers
Adding and Subtracting Integers Google Classroom TEKS 6.2A 6.2B 6.3C 6.3D
Adding and Subtracting Integers Musical Mix-Up TEKS 6.3C 6.3D
Entire Learning Cycle on Math Properties of Operations TEKS 6.7D Inc. Technology
Prime Factorization Predicament Classroom Escape Room Challenge TEKS 6.7A
Exponent Task Cards QR Codes & Augmented Reality Reinforces Order of Operations
Exploring Multiplying by a Fraction TEKS 6.3B Comparing Factors to the Products
___________________________________
Follow Me so you can be notified about my latest resources! (Click the star near the Math Chick icon)
You can also follow me on:
Or email me at therealmathchick@gmail.com
___________________________________
Copyright © Math Chick
Permission to copy for single classroom use only.
Please purchase additional licenses if you intend to share this product.
Report this resource to TPT
Standards
to see state-specific standards (only available in the US).
Understand that positive and negative numbers are used together to describe quantities having opposite directions or values (e.g., temperature above/below zero, elevation above/below sea level, credits/debits, positive/negative electric charge); use positive and negative numbers to represent quantities in real-world contexts, explaining the meaning of 0 in each situation.
Apply and extend previous understandings of addition and subtraction to add and subtract rational numbers; represent addition and subtraction on a horizontal or vertical number line diagram.
Apply and extend previous understandings of multiplication and division and of fractions to multiply and divide rational numbers.