Adding Subtracting Fractions Unlike Denominators Color by Number Distance Learn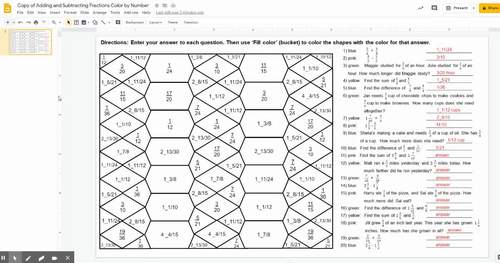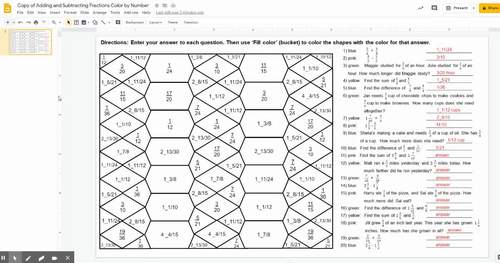 Format
PDF
 (
4 MB
|
PDF with 3 print versions and link to Google Slides version, keys
)
 Digital Resource for Students
The Teacher-Author has indicated that this resource is made for device-based learning.
Also included in
This bundle includes 20 easy-prep math color by number resources, several with multiple versions. Each color by number has 20 problems for students to solve. Students solve, self-check, and then color! The 20 different color by number resources address the math concepts below: Addition and Subtracti

This math color by number bundle includes 60 easy-prep color by number resources that are found in my smaller color by number bundles. With all the versions included, there are over 90 activities in this bundle! This bundle includes of all of the color by numbers in Bundle #1 (grades 5-7)Bundle #2 (

This grade 6 math curriculum resource bundle includes: daily math warm-ups, Footloose task cards activities, interactive notebook fold it ups, problem solving and color by numbers. This combination of resources will take you through your entire school year with a great variety of activities! The fol

$145.00

$289.75

Save $144.75

This is a bundle of 17 great resources that provide fraction practice - from equivalent fractions, to comparing and ordering, to adding, subtracting, multiplying, and dividing. Each item in the bundle is listed below and is linked to its individual product page, in case you'd like to look at any of

This math curriculum resources bundle includes resources that address all 6th grade and some 7th grade math standards: * 7 Grade 6 Curriculum Units (which include student packet with notes and practice; assessments;exit tickets; word wall words) ; Google versions currently being added (5/19/20)* Dai

$300.00

$472.00

Save $172.00
Product Description

Standards
Students solve 20 problems, self-check AND get to color - either on paper or digitally, in Google Slides!
In this activity, students add and subtract fractions and mixed numbers with unlike denominators. Then they find the solution number on the coloring page and color it with the color indicated in the box for that problem. Students will immediately know whether or not they solved correctly - if their answer is incorrect, they won't find it on the coloring sheet!
Check out the Preview above to see what's included and to see an overview of the Google coloring.
Problems require students to:
Add and subtract fractions and mixed numbers with unlike denominators
Solve word problems by adding or subtracting fractions and mixed numbers with unlike denominators
There are 3 paper coloring versions and 1 Google Slides version:
Version A has the most detailed coloring, for students who work quickly.
Versions B and C:
Have 5 problems that are different from Version A. These 5 are a little easier—smaller denominators, easier to simplify (if simplifying is necessary.)
Have less detailed coloring than A; B and C have slightly different coloring
Google Slides version:
Same problems as paper versions B and C
Coloring instructions and link to Google Slides file are in PDF
Also includes 2 coloring pages with no numbers, for students to color their own way, for fun.
This activity is also in the Color by Number Bundle #3 for Grades 4-5 (save>30%)!.
Please keep in touch by following me, to be notified when new resources are uploaded! Resources are 1/2 off for the first 24 hours, so it pays to follow:-)
For CBN savings, check out:
Color by Number Bundle #1 (grades 5-7)
Complete Color by Number Set, Grades 4-7
Check out all Color by Number Activities
********************************************************************
You might also like:
Common Core Daily Math Warm Ups for Grade 6
to see state-specific standards (only available in the US).
Solve word problems involving addition and subtraction of fractions referring to the same whole, including cases of unlike denominators, e.g., by using visual fraction models or equations to represent the problem. Use benchmark fractions and number sense of fractions to estimate mentally and assess the reasonableness of answers. For example, recognize an incorrect result 2/5 + 1/2 = 3/7, by observing that 3/7 < 1/2.
Add and subtract fractions with unlike denominators (including mixed numbers) by replacing given fractions with equivalent fractions in such a way as to produce an equivalent sum or difference of fractions with like denominators. For example, 2/3 + 5/4 = 8/12 + 15/12 = 23/12. (In general, 𝘢/𝘣 + 𝘤/𝘥 = (𝘢𝘥 + 𝘣𝘤)/𝘣𝘥.)
Total Pages
PDF with 3 print versions and link to Google Slides version, keys
Teaching Duration
40 minutes
Report this Resource to TpT