Addition And Subtraction to 20 | 6 Centers | Digital and Print | 1.OA.5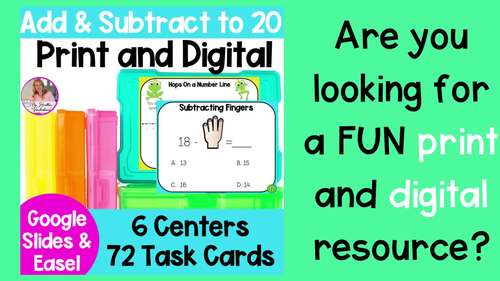 ;
PDF

Google Apps™
Includes Google Apps™
The Teacher-Author indicated this resource includes assets from Google Workspace (e.g. docs, slides, etc.).
Easel Assessment Included
This resource includes a self-grading quiz students can complete on any device. 
Easel by TPT is free to use!
Learn more
.
Also included in
Help your students master Operations and Algebraic Thinking: represent and solve problems involving addition and subtraction. by using a FUN set of LOW prep centers. This resource includes 48 engaging math centers that can be used to practice first grade math skills. They will practice several strat

Price $25.60

Original Price $32.00

Save $6.40

Help your students master First Grade Math Skills by using a FUN set of LOW prep centers. This resource includes YEAR LONG engaging math centers that can be used to practice first grade math skills. They will practice several strategies to learn all of the math standards. Use these in math centers

Price $59.50

Original Price $85.00

Save $25.50
Description
Help your students master addition and subtraction within 20 by using a FUN set of LOW prep centers. Your students will practice and develop different strategies for solving adding and subtracting problems. This is an important math fluency skill to learn in the early stages of addition and subtraction.
This game is great for Morning Work, Sub Plans, Math Centers, Early Finishers, Homework, Partner Pairs (pair different abilities for support), and so much more!
2 Digital Formats (Google & Easel)
This digital resource version uses Google Slides™ and can be used in Google Classroom and Google Drive. It is a self-correcting and interactive game, so students are engaged the entire time.
This resource contains an EASEL Activity that can be used for in classroom or distance learning. An overlay has already created for students to input their responses in answer boxes and to use other tools to draw and highlight. After purchase, click the "Open in Easel" button on this page. This will open a digital overlay where students can type in their answers. You can use the digital overlay as it is or edit it to make it work for your classroom. You can even assign the EASEL Activity in Google Classroom!
Click here to learn more about TpT's EASEL Activities.
With the printable version, students solve the problems. Once students have chosen an answer, they will record it on the corresponding sheet.
Skills Covered
•1.OA.C.5: Add and subtract within 20, demonstrating fluency for addition and subtraction within 10. Use strategies such as counting on; making ten: decomposing a number leading to a ten; using the relationship between addition and subtraction; and creating equivalent but easier or known sums
WHAT'S INCLUDED?:
Adding Ten Frames Students will add ten frames. Then they will record their answers on the recording sheet. (Color and B&W version included)
Counting Fingers Students will practice counting on. (Color and B&W version included)
Hops on a Number Line Students will add and subtract on a number line. . (Color and B&W version included)
Subtracting Fingers Students will practice subtracting with fingers. (Color and B&W version included)
Dice Addition Students will add the dots. They will then record the number on the sheet. (Color and B&W version included)
Adding And Subtracting SeashellsStudents will add or subtract from the seashells. (Color and B&W version included)

**Answer keys are provided for each center
Related Items:
☀️ Addition Facts to 20 Hunt Game Google Slides Game
☀️ ELA Google Slides Game Literacy Activity April Themed
☀️ K-2 Addition and Subtraction Math Google Slides Game April Themed
☀️ March ELA Google Slides Game Literacy Activity
☀️ L, S, & R Blends Game on Google Slides™ Phonics Activities
☀️ Math and ELA Games on Google Slides™ March Themed
☀️ Subtraction Facts to 20 Game Google Slides Game
Please click on each item for a more detailed description.
❤️ Follow me! ❤️
Look for the green star next to my TpT store logo and click it to become a follower. This will let you know about my sales, discounts, freebies and new products!
Customer Tips: How to get TPT credit to use on future purchases: *Please go to your My Purchases page. Beside each purchase you'll see a Provide Feedback button. Click Provide Feedback and it will take you to a page where you can give a quick rating and leave a short comment for the product. Each time you give feedback, TPT gives you feedback credits.. You can use these credits to have a discount on future purchases.
Feedback and ratings are greatly appreciated.
Terms Of Use:
All rights reserved. Purchase of this unit entitles the purchaser a limited license . You may utilize this resource for each of your students. Duplication for an entire school, an entire school system or commercial purposes is strictly forbidden without written permission from the publisher. The Google Slides templates included in this resource may not be used to create something new, and or, distributed in anyway without written consent from the author, Heather Vanderboom.

Copying any part of this product and placing it on the Internet in any form (even a personal/classroom website) is strictly forbidden and is a violation of the Digital Millennium Copyright Act (DMCA). These items can be picked up in a google search and then shared worldwide for free.
Copyright © Heather Vanderboom, LLC All rights reserved by the author. This product is to be used by the original purchaser and is a single classroom license. It may not be posted on a public website where others have access to download it and it may not be translated into another language and then posted for free or for sale.
Report this resource to TPT
Standards
to see state-specific standards (only available in the US).
Relate counting to addition and subtraction (e.g., by counting on 2 to add 2).