Addition Math Games for Kindergarten - Math Addition 0-19 Fact Fluency Games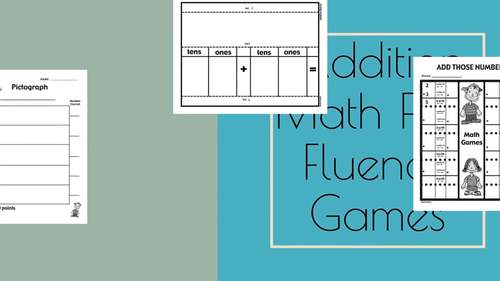 ;
Also included in
First Grade Math Games and Activities Bundle! -Easel Digital ActivitiesThis 261 page First Grade Math Games and Activities Bundle is packed with math games, activities, and math practice sheets. It has your first grade Common Core math needs covered! First Grade Math Bundle! is right on target fo

Price $28.00

Original Price $39.90

Save $11.90
Description
Are you looking for time-saving and engaging Addition Math Games to use in your kindergarten Math centers, in small groups, and with the whole class? Addition 0-19 Math Addition Fact Fluency Games changed math in my classroom into an engaging, skill-focused, and fun learning experience. These hands-on addition games and math activities offer young students a visual reference for the process of grouping numbers.
If you are looking for an easy way to differentiate between a range of math levels and improve the basic math skills of all your students, this is for you.
What Teachers like you say:
✨Awesome. Thanks for all the games!
✨This is going to make my life so much easier with my 17 of 20 2nd Graders who need it!
✨been using it for a while, and so love it!
Using these fun child-centered addition games encourages children to practice basic math skills while increasing their understanding of addition. Offering frequent and focused addition practice develops mastery and retention of math skills.
This Addition package includes 3 addition Math Games:
Add Those Numbers
Make That Number
Addition Boards -Making Numbers
ALSO INCLUDED:
Addition Timed Tests
Student Score Bar Graph
Reproducible back lines included in this math package:
A variety of addition games
Complete game boards and game cards
Activity math backline masters
Assessment
Activities to send home
Easy to use teacher's guides
Easy math game assembly
Related Products
Addition Math Vocabulary Trading Cards
Number Sense Math Vocabulary Trading Cards
Happy Teaching
Lori
Fun To Teach
Thank you for your purchase!
Please follow me!:
•Click the green star beside my name at the top of this page OR at the top of my store page.
**Thank you so much for your purchase! If you enjoy my products, please leave feedback:
Why is feedback so important?
When you provide feedback, you'll earn TPT credits that can be used for future purchases!
Getting TPT credits to use on future purchases is easy:
•Go to your My Purchases page
•Beside each purchase you'll see a Provide Feedback button
•Click it and you will be taken to a page where you can leave a quick rating and a short comment about the product.
Thanks a bunch!
Lori
Teaching Duration
Lifelong tool
Report this resource to TPT
Standards
to see state-specific standards (only available in the US).
Count to 120, starting at any number less than 120. In this range, read and write numerals and represent a number of objects with a written numeral.
Understand that the two digits of a two-digit number represent amounts of tens and ones. Understand the following as special cases:
10 can be thought of as a bundle of ten ones - called a "ten."
The numbers from 11 to 19 are composed of a ten and one, two, three, four, five, six, seven, eight, or nine ones.
Add within 100, including adding a two-digit number and a one-digit number, and adding a two-digit number and a multiple of 10, using concrete models or drawings and strategies based on place value, properties of operations, and/or the relationship between addition and subtraction; relate the strategy to a written method and explain the reasoning used. Understand that in adding two-digit numbers, one adds tens and tens, ones and ones; and sometimes it is necessary to compose a ten.