Addition and Subtraction Word Problems for Google Slides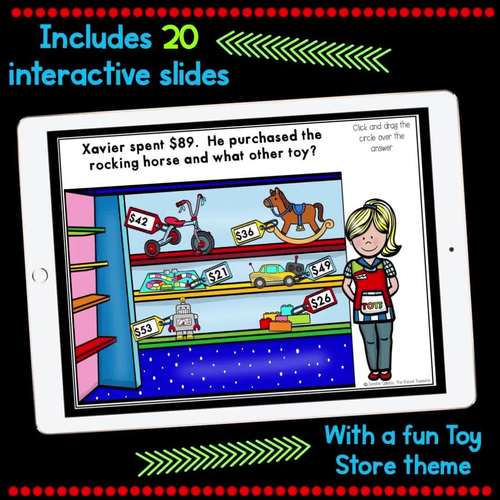 ;
PDF

Google Apps™

Internet Activities
Includes Google Apps™
The Teacher-Author indicated this resource includes assets from Google Workspace (e.g. docs, slides, etc.).
Also included in
This bundle of December resources will give you so many activities for all subjects to use throughout the month! All activities require very little to no-prep, so they are easy to just print and use immediately in the classroom. Cover important holidays and provide holiday-themed pages without hav

Price $19.20

Original Price $24.00

Save $4.80
Description
Practice one and two-step addition and subtraction word problems using Google Slides. This set of 20 practice slides is interactive and engaging. Students will love the fun Toy Store shopping theme! Slides practice standards 2.NBT.7, 3.OA.8, and 3.NBT.2.
This assignment works great as a shopping experience to use around the holidays or anytime throughout the school year.
WHAT'S INCLUDED:
Teacher directions for assigning and product link.
20 interactive Google slides
Answer key for teacher
Don't forget that leaving feedback earns you points towards FREE TPT purchases. I love feedback!
Click here to follow me and be notified when new products are uploaded. ★Products are 50% off during the first 48 hours!!★
Find me online at The Rocket Resource for tips, resources, and freebies!
OTHER PRODUCTS YOU MAY BE INTERESTED IN:
Teaching Duration
45 minutes
Report this resource to TPT
Standards
to see state-specific standards (only available in the US).
Fluently add and subtract within 1000 using strategies and algorithms based on place value, properties of operations, and/or the relationship between addition and subtraction.
Use addition and subtraction within 100 to solve one- and two-step word problems involving situations of adding to, taking from, putting together, taking apart, and comparing, with unknowns in all positions, e.g., by using drawings and equations with a symbol for the unknown number to represent the problem.
Solve two-step word problems using the four operations. Represent these problems using equations with a letter standing for the unknown quantity. Assess the reasonableness of answers using mental computation and estimation strategies including rounding.