Adivina Que Spanish Heads Up Electronic Game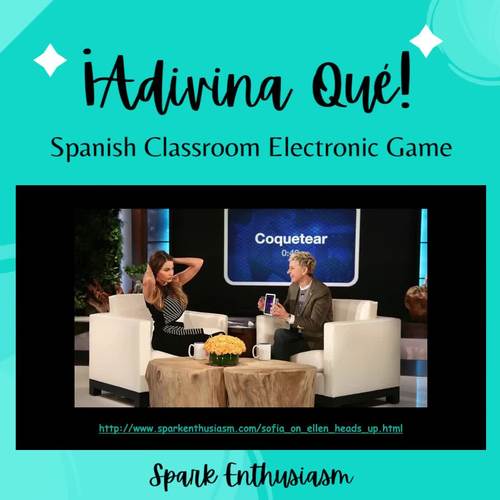 ;
7

th

- 12

th
,
Higher Education
,
Adult Education
Description
Adivina Que Spanish Heads Up Electronic Game has 280+ pages/Power point slides. This fun and interactive best seller vocabulary game can be used in beginning, intermediate, and advanced Spanish classes and includes many choices for any type of classroom. There are detailed teacher instructions to play this easy and hilarious learning game.
¡Adivina Qué! is a crazy, fast-paced vocabulary expression guessing game that students love!
The 20 themes included in this Spanish version of the game are Familia, Casa y Muebles, Bebidas, Comidas, Profesiones, Frutas, Deportes, Lugares, Materiales, Naturaleza, Partes del Cuerpo, Rutina Diaria, Servicio de Mesa, Aeropuerto, Cumpleaños, Animales, Transporte, Ropa, Salud, and Materiales Escolares.
There are 10 vocabulary expressions for each of the 20 categories.
Also, there are several ways to play this game. Teachers can play Adivina Qué as a whole class or the students can play it in small groups. Adivina Qué can be played with Chromebooks, on a screen with a Power Point, or with cards that students hold up to their heads.
This product includes the 223 slide Power Point animated game and it also includes a video clip of the Ellen show to demonstrate to the students how to play the game in Spanish.
There is a PDF of all the slides that can easily be printed and cut out for classes that are not equipped with a computer, a screen, or Chromebooks.
Also, there is an intermediate/advanced article in Spanish about Heads Up with comprehension questions and an answer key.
We also have an Advanced Version of this game.
We hope your students enjoy playing this game as much as ours do!
See all of our most popular and best seller games!
Visit our Spanish-speaking countries, holidays, and culture section on our website! – Los Días Festivos
Spark Enthusiasm Spanish Culture and Holidays!
Let's connect! We would love to hear from you!
Have a great school year!
Report this resource to TPT