African and Jazz Music Lessons and Worksheets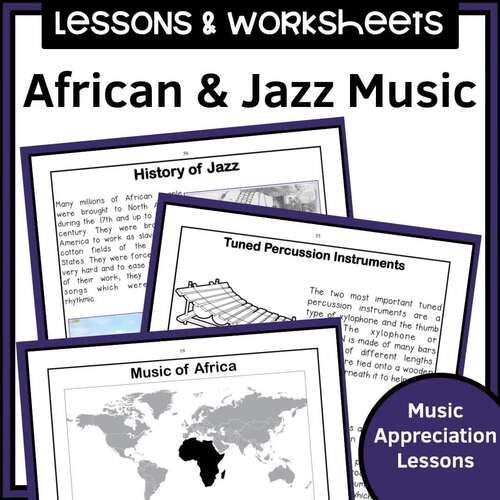 ;
Also included in
The Music Lessons and Worksheets Bundle 2 is a great collection of resources that are suitable for the Middle School and General Music classroom. There are enough resources to teach for an entire year. Each resource is ready to teach, you just choose a lesson or activity and go.Click here to stay up

Price $57.99

Original Price $73.00

Save $15.01

This Music Worksheets and Lessons Mega Bundle 2 includes all the resources you will need to teach Middle School and General Music for a whole year! Everything you need is included to keep your students learning with fun lessons, activities and games.Click here to stay up to date with latest product

Price $87.99

Original Price $111.00

Save $23.01

The Rock Music Worksheets & Lessons Mega Bundle is perfect for the Middle School and General Music classroom. These lessons, worksheets, assignments, projects, music classroom decor kits and listening activities are the culmination of a few years' hard work and effort in creating resources that

Price $120.00

Original Price $159.50

Save $39.50

Celebrate Black History Month in your middle school or general music classroom with this Bundle of Music resources. The bundle gives your students an opportunity to expand their knowledge with lots of flexibility on how to study these influential African-American musicians and composers. Click here

Price $19.50

Original Price $27.50

Save $8.00
Description
These African and Jazz Music lessons and worksheets tell the story of how Rock Music began. The resource has been created with the Middle School and General Music student in mind. It has a focus on the Elements of Music Listening Analysis, Paragraph Writing and the use of the Reading Comprehension Strategies to help improve the writing and literacy skills of your students.
Click here to stay up to date with latest product releases
Included in the African and Jazz Music Lessons and Worksheets:
TWO versions of the African and Jazz Music Lessons and Worksheets– one printable and one classroom/display
African Music lessons on - Music of Africa, Features of African Music, African Untuned Percussion Instruments, African Tuned Percussion Instruments, African Wind and String Instruments
Jazz Music lessons on - History of Jazz Music, Jazz Music Instruments, Features and Characteristics of Jazz Music
Spelling words, definition match it cards, vocabulary activity
Super Six Comprehension Strategies- Making Connections, Monitoring, Predicting, Questioning, Summarizing and Visualizing
Elements of Music Listening Questions, with links to suggested music
TWO different versions of Elements of Music Paragraph Writing Templates – P.E.E.L. and T.X.X.X.C
Suggested performance pieces with links
BONUS Extension Activities
This unit of work is a great way to help your students understand and appreciate where the music they listen to has its origins. Your students will enjoy the variety of music embedded in the unit – both listening to it and having the opportunity to perform it on the instruments available in your classroom.
When you teach this unit, try using the African Ensemble Assignment as a fun performing and composition assessment. Be sure to check it out in my store!
Happy Teaching
Julia from Jooya
__________________________________________________________________________
Save money by purchasing any of these $$$ saving bundles
Rock Music Worksheets & Lessons Mega Bundle
Music Worksheets & Lessons Mega Bundle 2
Music Lessons and Worksheets Bundle 2
__________________________________________________________________________
Get value for money with TPT credits
After logging in, go to your My Purchases page. Beneath the title of each of your purchases you'll see a "Provide Feedback" link. Simply click on the link and you will be taken to a page where you can give a rating and leave a short comment on how much you love the product. Each time you give feedback, TPT gives you 5 feedback credits, 20 credits equals $1 off your purchase!
Become a follower by clicking the "Follow Me" green star near the Store Logo, this will let you know about any sales I am throwing, new products and freebies!
Teaching Duration
2 months
Report this resource to TPT