Age of Absolutism Unit Plan | Readings, Graphic Organizers, Hands-On Activities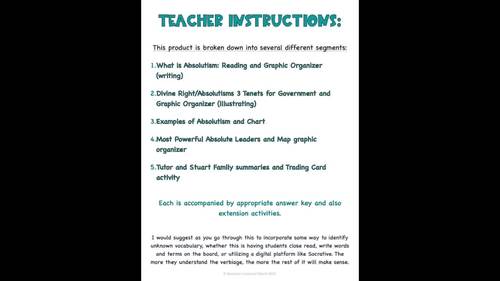 ;
Description
In this Age of Absolutism unit plan, students will be given several different activities to understand Absolute Rule and the Absolute Monarchs that reigned during their various time periods and dynasties.
What is Absolutism: Reading and Graphic Organizer (writing)

Divine Right/Absolutisms 3 Tenets for Government and Graphic Organizer (illustrating)

Examples of Absolutism and Chart

Most Powerful Absolute Leaders and Map graphic organizer

Tutor and Stuart Family summaries and Trading Card activity
Each is accompanied by an appropriate answer key and also extension activities.

This is listed as taking 1 week, but it could take more or less depending on how involved your students get.
To learn more about this topic and/or activity, visit: https://www.studentcenteredworld.com/what-does-absolutism-mean/
I would greatly appreciate your feedback!
Any questions? Please let me know as soon as possible in the product Q/A so I can help.
Report this resource to TPT
Standards
to see state-specific standards (only available in the US).
Cite specific textual evidence to support analysis of primary and secondary sources, attending to such features as the date and origin of the information.
Determine the central ideas or information of a primary or secondary source; provide an accurate summary of how key events or ideas develop over the course of the text.
Analyze in detail a series of events described in a text; determine whether earlier events caused later ones or simply preceded them.
Determine the meaning of words and phrases as they are used in a text, including vocabulary describing political, social, or economic aspects of history/social studies.
By the end of grade 10, read and comprehend history/social studies texts in the grades 9–10 text complexity band independently and proficiently.