Age of Ideologies: 19th century Conservatism, Liberalism, Nationalism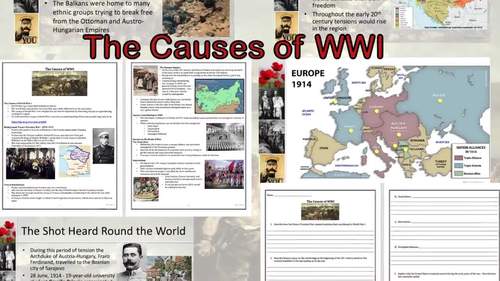 ;
9

th

- 12

th
,
Higher Education
,
Adult Education
,
Homeschool
Zip

Google Apps™
Includes Google Apps™
The Teacher-Author indicated this resource includes assets from Google Workspace (e.g. docs, slides, etc.).
What educators are saying
Amazing!! I loved the amount of effort put on this. Definitely would recommend to other people as well.
Description
All the foundational information your students need to build their knowledge, interest, and skills upon. Concise information in point form with stunning images and thought-provoking questions. **
The Age of Ideologies was a period that spaned from the end of the Napoleonic Wars to the First World War. During this era, new ideas about goverment created new nations, broke apart old empires, and created the political framework of the Western World.
Google App Links are on the Teacher Instructions Sheet!
Topics covered in this presentation include:
♦ Congress of Vienna
♦ Conservatism
♦ Liberalism
♦ 1848: Year of Revolutions
♦ France
♦ Austria
♦ Nationalist Revolts
♦ Ottoman Empire
♦ Austrian Empire
♦ Russian Empire
♦ Nationalist Unification
♦ Italy
♦ Germany
Two versions of this lesson!
The first is a Presentation - PowerPoint/Google Slides - for those teachers who know the topic and want to guide their students through the material. This class takes approximately 90-minutes. There are handouts for note taking along with reflection questions included with this presentation.
The second version consists of the information and images on worksheets that the students can read through at their own pace. This is best done if laptops or tablets are available for the class or for online learning. This version comes with more indepth questions that the students can work through at their own pace.
Facebook Page
Please "Like" my Facebook page to keep up to date with new releases, sales, cool links, and other great ideas!
Have a suggestion or request? Let me know on Facebook and I can make them a priority!
Teaching Duration
90 minutes
Report this resource to TPT