Alaska Mini Book for Early Readers - A State Study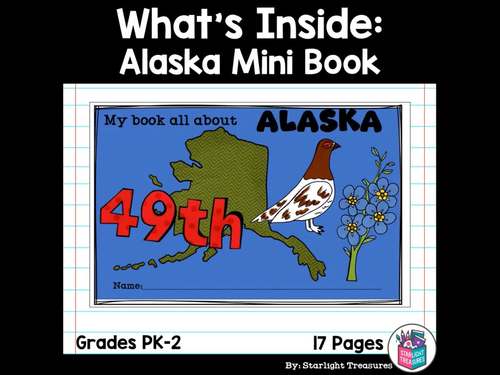 ;
Easel Activity Included
This resource includes a ready-to-use interactive activity students can complete on any device. 
Easel by TPT is free to use!
Learn more
.
What educators are saying
We used this during the summer for our road trip across the U.S. This reader was a great resource and very informative for our students.
Absolutely excellent. We used it during a 'Road Trip USA' summer school unit, and students loved the opportunity to learn about Alaska. Excellent product.
Also included in
These West United States Mini Book Bundle is perfect for your students to learn about the Western States of the United States! Each book can be used for a very basic state study in lower elementary grades! This is perfect for Pre-k, Kindergarten, and 1st Grade. Each page has a basic fact about each

Price $21.60

Original Price $39.00

Save $17.40

This 50 States Complete Mini Book Bundle includes all 50 States Mini Books! This is perfect for a year of teaching the states to your students! All 50 States of the United States are included!Plus a full color teacher copy for students to check their work, use as a guide, or to laminate and add this

Price $78.40

Original Price $150.00

Save $71.60

Your students will love this Alaska Complete BUNDLE! It includes a mini book, fact sheet, lapbook, photo poster, and alphabet a-z flash cards!PLUS a free bonus of postcards that is only available in this bundle!Save over 30% by buying this bundle!This bundle is perfect for grades Pre-K to 2nd Grade!

Price $5.88

Original Price $10.50

Save $4.62
Description
This Alaska Mini Book is perfect for your students to learn about Alaska! This book can be used for a very basic state study in lower elementary grades! This is perfect for Pre-k, Kindergarten, and 1st Grade. Each page has a basic fact about Alaska and a scene or illustration to get students to connect to the words. The scenes can be colored in as a fun activity for the students!
This printable interactive activity includes:
A black/white half page mini book for students to color and read
A color half page mini book for the teacher to use as a guide, to laminate, and/or to add this mini book to their collection
A photo poster collage to display on a bulletin board
This engaging activity works well for Pre-K, Kindergarten, 1st Grade, and 2nd Grade students. This unit is great for homeschool to introduce this unique topic to your early readers.
This coloring mini book about Alaska displays information about:
- Map of Alaska
- Seal of Alaska
- Map of Alaska in the USA
- Trace the world Alaska practice
- Flag of Alaska
- The 49nd state
- Willow Ptarmigan bird
- Sitka spruce tree
- Forget-me-not flower
- King salmon
- Dog mushing
- Alaskan Malamute dog
- Moose
- Gold
- Capital is Juneau
- A reflection page for students to write their favorite facts they learned about Alaska
This is the perfect basic state study for students to read and color! 17 pages in all!
This mini book works well for guided reading, small groups, literacy centers or whole group.
This mini book includes 17 pages, each page has two on it so you can save on ink and paper! One page will print two books!
Check out all my state mini books:
- Alabama
- Alaska
- Arizona
- Arkansas
- Colorado
- Delaware
- Florida
- Georgia
- Hawaii
- Idaho
- Illinois
- Indiana
- Iowa
- Kansas
- Kentucky
- Maine
- Maryland
- Michigan
- Missouri
- Montana
- Nebraska
- New York
- Nevada
- Ohio
- Oklahoma
- Oregon
- Texas
- Utah
- Vermont
- Virginia
- Wyoming
To assess the quality of my work please check out this free product:

Related Products
⭐ Alaska Complete State Study for Early Readers - State of Alaska Bundle
⭐ Alaska Lapbook for Early Learners - A State Study
⭐ Alphabet Flash Cards for Early Readers - State of Alaska
Customer Tips:
1. How to Subscribe to my Blog Newsletter
Do you want exclusive information on sales, giveaways, updates, and new products? Sign up for my blog newsletterHERE
2. How to get TPT credits to use on future purchases
Go to your My Purchases page. Beside each purchase you'll see a Provide Feedback button, click it and you will be taken to a page where you can leave a star rating and a short review about the product. Why is feedback so important? Each time you provide feedback, you'll earn TPT credits that can be applied to future purchases to save you money!
3.  How To Follow My Store
Click the green star beside my name at the top of this page OR at the top of my store page. Following me notifies you when I post a new item and you'll get access to my note to followers each month about updates, sales, giveaways, and more!
4. How To See All My Freebies
To see all my free products in one placeCLICK HERE
This product by Starlight Treasures is copyrighted for single classroom or teacher use only. This product may not be resold and or given away for free. If you have questions or comments, please email me
© Starlight Treasures LLC
Answer Key
Does not apply
Report this resource to TPT
Standards
to see state-specific standards (only available in the US).
Demonstrate understanding of the organization and basic features of print.
Follow words from left to right, top to bottom, and page by page.
Recognize that spoken words are represented in written language by specific sequences of letters.
Understand that words are separated by spaces in print.
Read emergent-reader texts with purpose and understanding.