All About Digraphs - Phonics Unit - Digraph Worksheets - Literacy Centers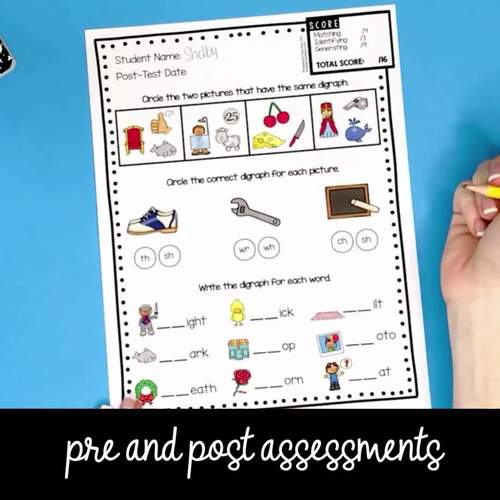 ;
Also included in
This curriculum gives you everything you need to teach phonics in kindergarten and first grade. These units are aligned to the common core standards as well as most state standards. I help you target and plan your lessons using sequential, systematic instructional units. These adorable, hand-on l

Price $40.00

Original Price $54.00

Save $14.00

This all in one kindergarten curriculum covers everything you need to teach your students the standards for phonics, reading, writing, math and more! Adorable thematic units incorporate science and social studies into each monthly/weekly theme. ⭐ SAVE 50% BY PURCHASING OUR ENTIRE KINDERGARTEN CURRI

Price $517.25

Original Price $1034.50

Save $517.25

This all in one kindergarten curriculum covers everything you need to teach your child and/or students the standards for phonics, reading, writing, math and more! Adorable thematic units incorporate science and social studies into each monthly/weekly theme.PLEASE NOTEThe content and resources includ

Price $455.25

Original Price $910.50

Save $455.25

My April Kindergarten bundle is finally here! It is now so easy to teach the standards each month and stay organized. In this money saving bundle, you'll receive all of the engaging units and activities that I use for the month of April to teach phonics, reading, writing, math, sight words, science,

Price $45.00

Original Price $62.50

Save $17.50
Description
This all in one unit has everything you need to teach your kindergarten, first grade or second grade students about digraphs. This resource is aligned to the common core standards as well as most state standards.
⭐ "I am so grateful to have found these units! They have everything you need to teach the unit in a clear and child friendly way. The graphics are great and the worksheets are exactly what I would want to use to teach the concepts."
This resource comes complete with literacy centers, worksheets, no prep activities and adorable posters - 83 pages you can print and use with your students!
CLICK HERE TO SEE THIS RESOURCE ON THE BLOG AND PRINT FREEBIES

⭐SAVE WITH MY PRIMARY PHONICS BUNDLE⭐
These units will take you through the entire school year!
UNIT 4 - CVC WORDS & WORD FAMILIES
UNIT 6 - DIGRAPHS this download
UNIT 7 - "SUPER E" LONG VOWELS
UNIT 9 - BOSSY R just added in June 2022!
This listing is for Unit 6 only.
⭐ "I have several other sets and this was perfect to go along with them! My students are familiar with the format and we're engaged and learning. Win win!"
⭐ "We love using these resources! The charts help us to remember all the different digraphs and what words they correspond to. The activities/worksheets are paced perfectly as well."
--- THIS UNIT INCLUDES ---
♥ Pre and Post Assessments
♥ Colorful poster/chart explaining what a digraph is.
♥ Printable charts that have examples for the 8 most common digraphs.
These come in both color and black and white.
This unit focuses on ch-th-sh-wh-ph-wr-qu-kn
♥ DIY Digraph Chart - students get to draw their own pictures for each digraph.
♥ Mini Book for students to write and color - My Book About Digraphs
♥ Phonemic Awareness - matching digraphs (circle the two pictures that have the same digraph)
♥ Digraphs Worksheets
Fill in the missing digraph and digraph bubbles.
♥ Cut and Paste Sorts
Students cut and paste the pictures under the correct digraphs/words. They can then write the words on the lines or in the letter boxes (both versions included.)
♥ Literacy Centers
- Digraph letter and color picture cards - perfect for literacy centers or pocket charts. There are so many activities you can do with these cards!
- Sorting digraphs with coordinating recording sheets
- Cut and paste digraphs quilts
- Digraph clip cards with coordinating recording sheets
- Fix my digraph mats with recording sheets
⭐ "This resource gave me everything I needed for our introduction to digraphs. I use it with my kiddos that have learning differences and it really keeps them engaged."
Watch your students grow confident and fluent with their digraphs.
These activities are low prep for you and will keep them engaged and having fun practicing their phonics skills!
Follow me for FREEBIES, ideas, sales and more!
Report this resource to TPT
Standards
to see state-specific standards (only available in the US).
Demonstrate understanding of spoken words, syllables, and sounds (phonemes).
Blend and segment onsets and rimes of single-syllable spoken words.
Know and apply grade-level phonics and word analysis skills in decoding words.
Know the spelling-sound correspondences for common consonant digraphs.