All About Me | NO PREP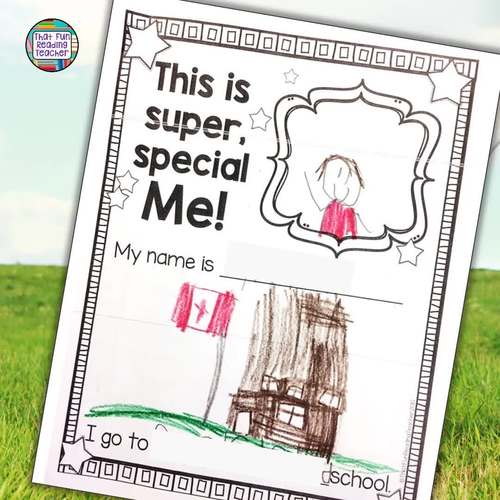 ;
Easel Activity Included
This resource includes a ready-to-use interactive activity students can complete on any device. 
Easel by TPT is free to use!
Learn more
.
What educators are saying
My students enjoyed filling these out during the extended school closures. It was a fun activity talk about themselves and the things they are proud of.
Also included in
Fun All About Me and Seasonal language activities for kindergarten and primary students - all year long!Included in this bundle:All About Me differentiated, early-literacy activities! (Easel-ready!)Fall, Thanksgiving, Halloween language activities!Winter No Prep Language ActivitiesSpring language ac

Price $15.00

Original Price $21.00

Save $6.00
Description
This is Super, Special ME! is a no-prep, printable All About Me booklet for Kindergarten to second grade students to share their interests, preferences, favorite activities, feelings about school and more!
I have just enabled this resource to work in Google Classroom through TpT's new digital activities. For more information on this, please visit https://bit.ly/TpTdigitalGoogleCR Thank you!
These activities are great conversation starters about how we are all special in our own way, including:
This is super, special me title page
age / birthday cake page (boy and girl versions)
the top starring people in my life
favorite things (color, letter, number, toy, story)
'My super power' (option: 'if I could have one')
favorite food, what I like to do at recess
they way I go to school, what I like best about school
color picture - how I feel when I am (in various school places, situations)
my favorite things to do
my future book (about me or by me)
I am grateful for (hand graphic organizer - one thing for each digit lined and unlined versions)
lesson sample idea with seven face templates (eyes, mouth, hair for 6 in place) around theme that parts of us can be both different and alike
blank t-shirt - add your own instructions digitally or otherwise for students to design their own t-shirt
Alternate versions of three of the activities are included to customize your package.
Try it free! A sample is included in...
T.F.R.T's Free Back to School sampler!
Thank you in advance, to those of you who generously take the time to leave feedback here. (And give yourself a little pat on the back, too - you will have just topped up your TpT credit balance!)
This product is also included in:
NEW!
Back to School:
FREE: How to make familiar reading fun for kids - strategies for parents and volunteers!
Looking ahead:
More Early Literacy!
Dealing With Feelings Storybook Lessons (DWF):
Feelings and Emotions visuals and activities (SEL):
☆Best-sellers - All year long☆
Looking ahead:
More Read and Write and More!
included in WINTER, Groundhog, Valentine's, 100th Day Early Lit BUNDLE
☆Best-sellers☆
☆Followers' Fave FREEBIES!☆
Let's connect!
Thank you for visiting my store! Please direct any questions you may have on the Q and A page of my store (by clicking my name at the top right), or email me at ThatFunReadingTeacher@gmail.com.
Pop by for a visit on:
my blog - That Fun Reading Teacher.com
Twitter and
How to get TPT credit to use on future purchases:
• Log in and go to your My Purchases page. Click the Provide Feedback button, where you will be linked to the page to leave a rating and short comment for the product.
Be the first to know about my new products, discounts and freebies:
• Look for the green star near the top of any page within my store and click it to become a follower. You will then receive email updates about ThatFunReadingTeacher on TpT!
All About Me | Back To School | Back To School Activities | I am Special | All About Me Worksheets | Back To School Printable | Back To School Writing | no-prep printables | Back To School Fun | Back To School Worksheets | Back To School Fun | Back To School Activities | Distance Learning
Report this resource to TPT