All About Penguins Craft and Interactive Activity Book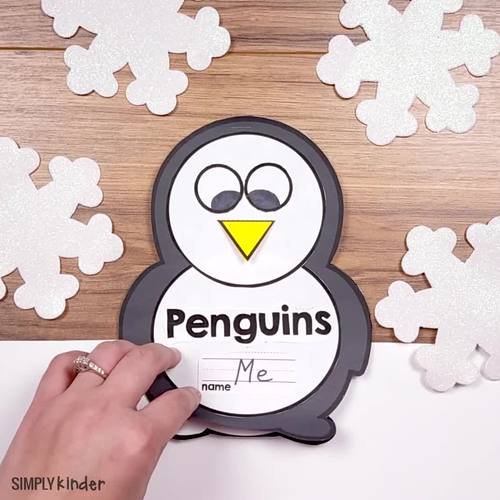 ;
Description
All About Penguins Craft and Interactive Activity Book for kindergarten and first grade.
This is an interactive book where each page has some sort of hands-on activity! Add nonfiction books to this unit and you have weeks worth of activities for your class!
Get this in a BUNDLE and save 50%
Themed Learning Journal Yearly Bundle
Included in this Penguins download:
Differentiated Cover Options: Craft cover and easy print cover option
All concepts are kept general enough that you can really guide the conversation however you want! Includes:
how penguins sleep
how many types of penguins there are
what penguins eat
what penguins do for fun
why penguins waddle
where penguins live
how long penguins can stay underwater
how penguins stay warm
Also includes sample photos for the activities.
Cover options:
1. Cute penguin craft as shown in the picture.
2. Print and color option (cut out in the shape of a penguin or in a square.
3. Put a blank page on the cover and kids glue on the craft.
Students will love learning about penguins and the concepts covered will be extra meaningful as they complete the activities in the book.
Teacher Reviews:
⭐️⭐️⭐️⭐️⭐️ "This is such a fun and informative resource for the kids and me! They loved learning about the different penguins. Each page was engaging and interactive which kept them focused. The books turned out really nice! I can't wait to use it again!"
⭐️⭐️⭐️⭐️⭐️ "This was sooo fun!! My kiddos loved learning a new fact and adding to their book. They were so excited to create their own book and add their details. Will certainly do over and over!!!"
⭐️⭐️⭐️⭐️⭐️"Perfect compliment to any winter lesson or unit about Penguins or winter. This can be implemented in sections or over a few days to a week. Spread out as needed, use in centers or a class project. All you need to do is print! It's perfect."
You might also like these JANUARY resources:
Stay up to date with all things Simply Kinder:
✅ Get our emails with weekly FREEBIES, special offers, & teaching ideas
Jennifer Kadar – Simply Kinder – Kindergarten – First Grade – Preschool
© Simply Kinder, LLC
For questions please email Hello@SimplyKinder.com.
Report this resource to TPT