All strands DIGITAL SUPER BUNDLE! Grade 3 Ontario 2020 Math for Google Slides™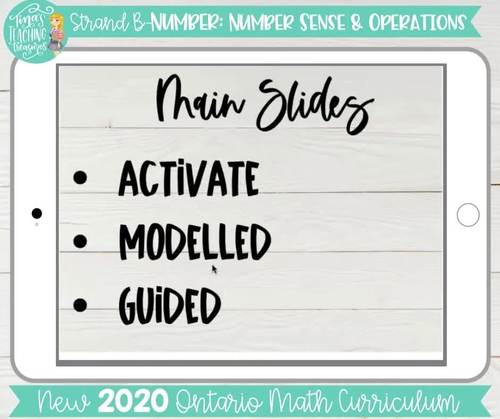 ;
Zip

Google Apps™
Includes Google Apps™
This bundle contains one or more resources with Google apps (e.g. docs, slides, etc.).
What educators are saying
I absolutely loved this math bundle. It was so quick and easy to use and plan for math when using them. I highly recommend this bundle. It was a life saver. Thank you!
Amazing activities and slideshows! My students were engaged in all activities and were able to complete independently!
Products in this Bundle (24)
showing 1-5 of 24 products
Bonus
Tina's Helpful Hints and Extra Slides
Description
This bundle includes digital products to cover all of the expectations for:
The 2020 Grade 3 Ontario curriculum.
This SUPER BUNDLE is over 25% off value even without a sale!

For a free sample of a digital math set, click here to check out my place value freebie!
These digital files are created to help your students easily move through their learning with a three-part lesson style and more.
This is a Digital Item ONLY. A force copy link in a PDF is provided for GOOGLE SLIDES™️. It is not designed for printing. Print versions are available in my store in a separate listing.
THIS BUNDLE INCLUDES ALL 23 SETS! This covers every single expectation of the 2020 Ontario Math Curriculum. SEL math ALSO included!
Each digital set includes:
Teacher notes including specific curriculum points covered
Posters to review the topics, vocabulary, or examples
Activate activity (Minds-on activity to refresh student learning - usually something fun like an activity or a game)
Modelled question (with additional supports to assist students such as drag and drop or example equations to fill in)
Guided question (with some additional supports to guide students)
3 diverse math journal questions for practice or assessment
Extension question to challenge students, or to offer gifted/talented students
Home connection info slide, fun activity task, and written question
4-5 question self-checking Google Form quiz (editable)
Answer key
*BONUS FILE* added Nov 26th 2020: Extra teacher notes, a sample week broken down in detail, additional slides and sample center to help you get "learners choice" up and running in your virtual classroom* Download free now!
Drag and drop style is used for some activities as well as clearly labelled text boxes for students to answer. These slides are set up to clearly show students what to do and allow them to independently move through the slides as you assign them.

These have been tested on a variety of devices such as tablets, Chromebooks, laptops, and iPads. Designs are simple, allowing the text to be read even on small screens.
Please try the FREEBIE before buying to make sure this works for your learning platform, teaching style, and learner profile!
Please note the following important details:
Please note, you will still need to provide instruction and background information. I have included materials you can model during a virtual meet and posters for reference. Ideally, you may model the "modelled" activity during a google meet explaining your steps, and then students work through the "active practice" activity right after but still during the meet. The rest of the activities could be done asynchronously.
The background text is NOT editable. The questions are flattened to the background so students do not accidentally delete or change the text. This allows the slides to easily be used on a variety of devices such as Chromebooks and tablets. (Only the Google Form is fully editable).
These activities align with my other Guided Math materials. You will notice the same layouts and topics of questions, but different numbers or other small changes allowing you to use both in your classroom in a variety of ways (examples may include: digital whole class lessons then paper practice, in-class paper & remote learning digital for hybrid learning model, home learning/practice digital & paper assessment in class, etc..). They are intentionally created to be similar. For example, both questions may talk about "Cooper's sticker collection," but the numbers in the questions will be different. This allows students to easily reference notebooks or make connections, especially if they are remote learning and doing the digital practice as an independent follow up/practice task.
FRENCH: This item is NOT available in French. There are no plans for translating any more items into French. Sorry!
Report this resource to TPT