Alphabet Adapted Books, Sensory Bin Activities, Sorting Mats and Posters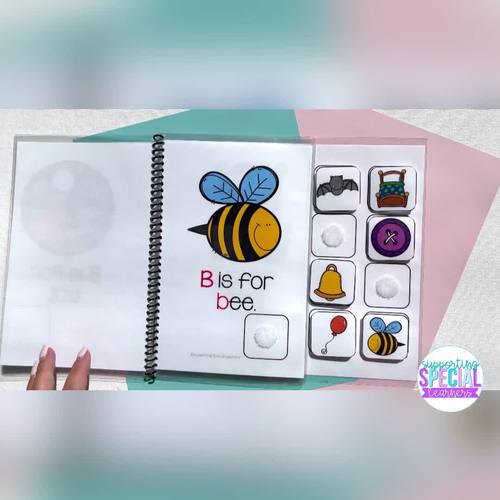 ;
What educators are saying
My students LOVE this resource! It is engaging and perfect to use in instruction and then also inpendently as we move from letter to letter!
Thank you! This resource is very helpful for my students during reading lessons or independent work!!
Also included in
Are your students learning the alphabet? This alphabet bundle has everything your need to progress from letter recognition to creating sentences. The activities listed below are perfect for kindergarten, special education and English language learners. This alphabet bundle will keep your students en

Price $9.95

Original Price $12.95

Save $3.00

Do your students love adapted books? This interactive book bundle includes three units: alphabet books, 2D shapes books and color books! Each adapted book has eight images your students can match while reading.These books are excellent for early readers, as they help them learn new vocabulary and im

Price $12.99

Original Price $16.95

Save $3.96
Description
Do your students love adapted books? Each interactive book includes 8 images for your students to match to the correct letter. Support your students learning with the corresponding sensory bin activity, sorting mats and posters! This is the perfect bundle for special education classroom, pre-school, SLP's and kindergarten classrooms!
ALPHABET MATS
These correspond with the new interactive alphabet books. You can use them as a search and find activity, labelling tool, matching activity or place them into a sensory bin. Using a sensory bin is my favourite way to use this activity. I place the mat on the wall and hid the attachment inside the bin! This is a great way to work on fine motor skills, language development and social skills!
ALPHABET SORTING CARDS
These are great follow-up activities! They come in three levels; with visual prompts, with written prompts and blank. CLICK HERE for more details!
ALPHABET POSTERS
Alphabet Posters for your word wall plus student workbooks! All posters correspond with the interactive alphabet books! Check out my Alphabet Poster Bundle to see what is included!
❤️ Download the preview above for a FREE sample ❤️ 
What other teachers are saying…
⭐️⭐️⭐️⭐️⭐️ Jennifer S. says, "These have been a game changer in our classroom for introducing letters! I am able to use them one-on-one and even as a group during circle time. Thank you!!"
⭐️⭐️⭐️⭐️⭐️ Serena L. says, "This resource is so very helpful. I am using in with my ESOL students. Many of them are still struggling with the letters and the sounds that they make. It has been a task to find something that engaging and interactive, yet this resources is that and then some. My students used them during morning work to help them review the letters they are working on. They love it and it makes me smile knowing that I have finally found a resources that truly helps."
⭐️⭐️⭐️⭐️⭐️ Jennifer Lynn S. says, "This is fabulous! An adapted book the kids can use. We do a sound of the week. The vowels get two weeks. This fits perfectly into our routine and helps give kids words to share either by speaking, pointing to, or finding on their communication devices."
⭐️⭐️⭐️⭐️⭐️ Jessica S. says, "My students LOVE using these books! I use them primarily with a student who has Down Syndrome, and he does GREAT with them! Very easy to use. Prepping them takes some time, but not that I have them all done, it is amazing! They will last for years!"
⭐️⭐️⭐️⭐️⭐️ Ashleigh H. says, "This is great to use with my students to help build vocabulary with the different letters of the alphabet. This is something some of my higher functioning students can do independently."
I hope you enjoy this resource as much as I do. Remember to follow my store for more amazing activities and freebies!
Teaching Duration
Lifelong tool
Report this resource to TPT