Alphabet Books - Alphabet Activities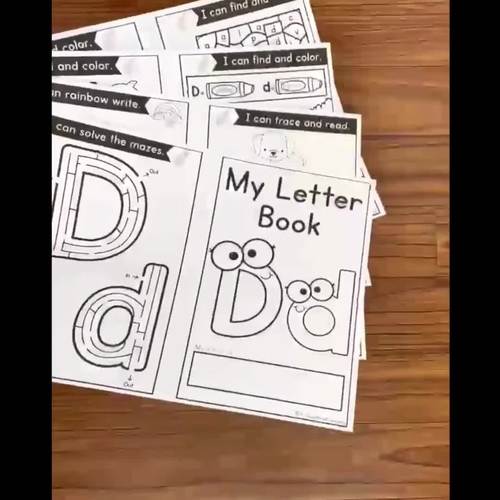 ;
What educators are saying
My students enjoyed completing the activities in these books. It was nice because we could work on the book all week and then take it home on Fridays.
These books were a great compliment to our phonics instruction. The students love the activities and they can take them home to practice with their families.
Description
These Letter A-Z Foldable Alphabet Books will have your students learning about each letter of the alphabet in a variety of ways.
There are 26 alphabet books included that is easy to prep and ready to use!
Tracing
Writing
Letter Identification
Handwriting
Letter Formation
Beginning Sounds
Simple Sentences
Fine Motor Skills
Problem Solving
And MORE!
: Students practice tracing and writing the letters.
: Students will use a code to find and color the uppercase and lowercase letters. Each letter book has an activity on this page that goes specifically with the beginning sound of the letter.
Students will use different colored crayons to practice writing the letters.
: Students will read short repetitive sentences about words that have the same beginning sound as the letter. (The letter 'Xx' also includes pictures that have the 'Xx' sound at the end of the word.
: Students will find and color the letters to make a path from start to end.
: Students will use a code to color the uppercase and lowercase letters to reveal a mystery image.
Students will work their way through a maze that is inside of an uppercase and lowercase letter.
Make sure to watch the preview to see these alphabet books in action and check out the preview to see all that is included.
• • • • • • • • • • • • • • • • • • • • • • • • • • • • • • • • • • • • • • • • • • • • •
Looking for more Alphabet Activities?
Alphabet Printables and Centers
Digital Alphabet Activities Bundle A-Z
Digital Math and Literacy Centers BUNDLE
Digital Interactive PDF Math and Literacy Games
Enjoy!
Visit my blog: A Spoonful of Learning
Follow me on Facebook
Follow me on Instagram
Report this resource to TPT