Alphabet Directed Drawing Activities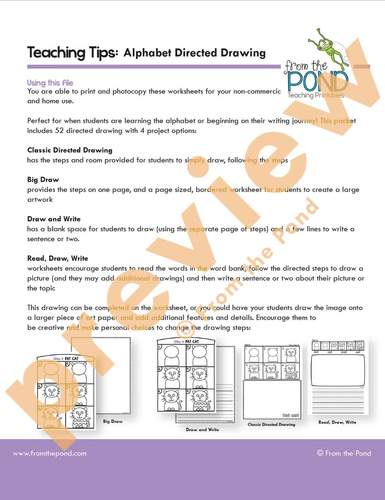 ;
Also included in
Get organized and set for learning the alphabet in kindergarten with our value-packed bundle of worksheets, activities and crafts. This Mega Bundle combines 20 of our best and favorite packets in one easy purchase.These activities require very minimal prep and will make learning the alphabet skill f

Price $47.20

Original Price $108.50

Save $61.30

This awesome pack includes 10 of our most popular From the Pond printable teaching resources. These are some of the resources that have become bestsellers and consistently receive love from our followers and fans! Included:cvc Word Family WorksheetsAlphabet Directed DrawingsMissing Addend CardsFlip

Price $40.00

Original Price $74.00

Save $34.00
Description
Drawing can help with writing, creativity and fine motor! Your students will love our Alphabet Directed Drawing pack activities as they learn early literacy skillss including the letters of the alphabet!
Included are 52 different pictures to draw and a variety of activity styles to suit all your learners! There are 2 drawings for each letter of the alphabet
Directed drawing allows young students to feel successful on their journey learning to draw and can help to motivate their writing.
For each of the 52 pictures to draw, you can choose from 4 project styles:
classic directed drawing
big draw
draw and write OR
Read-Draw-Write
Classic directed drawing
has the steps and room provided for students to simply draw, following the steps.
Big Draw
provides the steps on one page, and a page sized, bordered worksheet for students to create a large artwork.
Draw and Write
has a blank space for students to draw (using the separate page of steps) and a few lines to write a sentence or two.
Read, Draw, Write
encourages students to read the words in the word bank, follow the directed steps to draw a picture (and they may add additional drawings) and then lines are provided for students to write a sentence or two about their picture or the topic.
Directed drawings included in this file are:
ant
apple
bear
beetle
car
cactus
dog
duck
engine
egg
frog
fish
gate
goat
house
hat
iguana
insect
jellyfish
jam jar
koala
kitten
leaf
lamb
mouse
muffin
nest
notebook
octopus
ostrich
pig
pizza
quail
quokka
robot
rainbow
spider
skunk
tiger
toucan
umbrella
unicorn
vase
van
watermelon
walrus
ox
fox
yogurt
yak
zebra
zombie
The drawings are whimsical, cute and fun. We envisage that more capable students will add extra detail and background to their pictures.
Each short beginning sound of the alphabet is represented. Please note that an 'ox' has been used for the 'x' sound.
BONUS
2 bonus drawings have been added - Turtle and Shark - enjoy!
Please note that if 'ant' does not suit you for the letter-sound a, we have provided a free alternative - alligator, in our store HERE
Find more of my FUN Directed Drawing Packets HERE
Report this resource to TPT
Standards
to see state-specific standards (only available in the US).
Use a combination of drawing, dictating, and writing to compose opinion pieces in which they tell a reader the topic or the name of the book they are writing about and state an opinion or preference about the topic or book (e.g., My favorite book is...).
Use a combination of drawing, dictating, and writing to compose informative/explanatory texts in which they name what they are writing about and supply some information about the topic.
Use a combination of drawing, dictating, and writing to narrate a single event or several loosely linked events, tell about the events in the order in which they occurred, and provide a reaction to what happened.
Write narratives in which they recount two or more appropriately sequenced events, include some details regarding what happened, use temporal words to signal event order, and provide some sense of closure.
With guidance and support from adults, focus on a topic, respond to questions and suggestions from peers, and add details to strengthen writing as needed.