Alphabet Letter of the Week Bundle (American Version)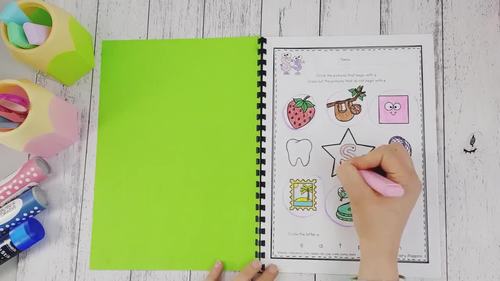 ;
What educators are saying
I am enjoying this. In our prek class we do a letter a week, and this makes it really easy for me to have everything I need for that letter at my fingertips, and the students enjoy it.
Thank you! This is great for letter lessons. It covers little bit of everything and it is perfect for their attention and work tolerance.
Products in this Bundle (26)
showing 1-5 of 26 products
Description
These alphabet letter of the week activities includes 26 printable workbooks that focus on letter identification, beginning sounds and letter formation. I've included both an American and Australian version in this pack.
>>> Try the FREE LETTER S pack
Included in this pack (per letter of the alphabet):
Choice of two workbook cover pages
10 Letter worksheets:
5 x Beginning sounds and lower case letter formation worksheets
1 x Lower case and upper case letter sort worksheet
2 x Lower case letter worksheets including letter formation
2 x Upper case letter worksheets including letter formation
Font Information
What I love about these workbooks!
Activities are practical and target key skills
Student friendly and great for independent work
Ten worksheets per workbook (set 1 to 2 activities per day)
Carefully selected clip art to teach letter sounds
A, E, I, O, U clip art focuses on short vowel sounds only e.g. /i/ for igloo (not ice cream)
Letter G clip art focus on hard g only e.g. /g/ for grapes (not giraffe)
Letter X clip art focuses on /x/ sound only e.g. X-ray, bo, mi (not xylophone which makes a /z/ sound)
Unique details included...
Worksheets contain a picture guide written in small print on each page
The supporting pictures are split into four letter groups to support synthetic phonics teaching sequences:
- SET 1: SATPIN
- SET 2: CKEHRMD
- SET 3: GOULFB
- SET 4: JZWVYXQ
What does this mean? It means when you give a child a letter "S" worksheet, the other pictures begin with a A, T, P, I or N. This helps to reinforce learning as the children move through the sets. Of course you can still teach in alphabetical order too if that is your preference. :)
I hope you love this resource as much as I do! :)
YOU MAY ALSO LOVE...
>>> Beginning Sounds - A to Z Matching Mats
>>> Alphabet Centers (Magnetic Letters)
>>> A to Z Beginning Sounds - Highlight & Hole Punch
FOLLOW ALONG!
★★★ Click here to follow me to get regular updates about new resources and awesome freebies ★★★
JOIN THE FP COMMUNITY!
>>> Fairy Poppins
>>> Instagram
>>> Pinterest
>>> Facebook
Sign up to my free newsletter on my blog to receive updates about new resources and freebies.
QUESTIONS, ISSUES OR REQUESTS
Please feel free to contact me via the "Ask a Question" tab. I value your feedback and am happy to help.
Need help with printing, downloading or opening files? Click here.
Report this resource to TPT