Alphabet "Today" Quiz. Vocabulary. Game. Brainstorming. ELA. ESL. EFL.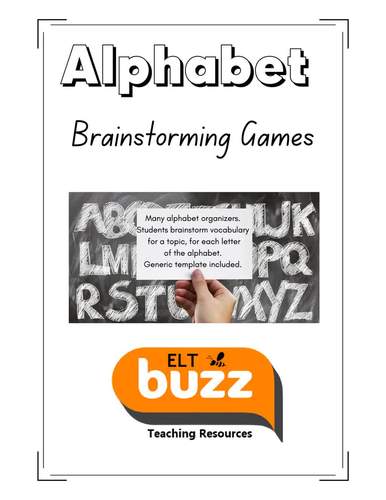 ;
Easel Activity Included
This resource includes a ready-to-use interactive activity students can complete on any device. 
Easel by TPT is free to use!
Learn more
.
Description
Manyone-pager templates to play alphabet vocabulary brainstorming. Sports, Nature, more topics. Includes generic template to use with any theme or topic.
1. Students get X amount of time.
2. Students write in their words for each letter of the alphabet.
3. Share results. Who got the most in X amount of time?
ESL, EFL, ESOL, worksheets, alphabet, primary, brainstorming, activity, game, guessing, vocabulary, topic, learning English, printables, teaching English, vocabulary, homework, blackline master, powerpoint, pdf, book, examples, tefl, tesol, video, lesson, spelling, reading, writing, teaching English, curriculum
*****************************************************************************
View Other Great Teaching Resources
Quizlet platform - complete online vocabulary study
The Top 100 Youtube Videos for teaching English + Resources
Get Speaking Conversation Cards
Beginner English Vocabulary Worksheets / Flashcards
This or That. Get to know each other worksheets
Funny Stories. Vol 1 (audio) Vol 2
Get Talkin' - Conversation Gambits
*****************************************************************************
Teaching Duration
30 minutes
Report this resource to TPT
Standards
to see state-specific standards (only available in the US).
Prepare for and participate effectively in a range of conversations and collaborations with diverse partners, building on others' ideas and expressing their own clearly and persuasively.
Demonstrate command of the conventions of standard English capitalization, punctuation, and spelling when writing.
Determine or clarify the meaning of unknown and multiple-meaning words and phrases by using context clues, analyzing meaningful word parts, and consulting general and specialized reference materials, as appropriate.