Alternative Reading Log | Printable home reading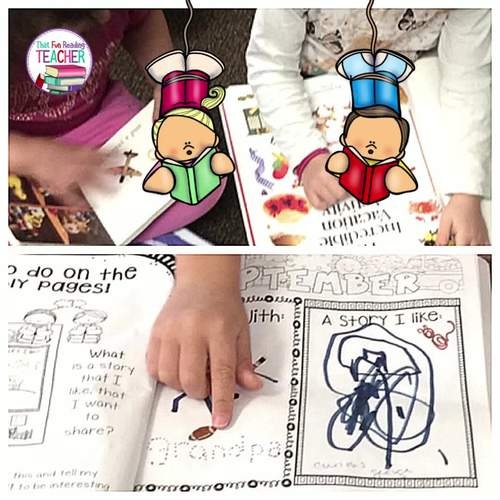 ;
Easel Activity Included
This resource includes a ready-to-use interactive activity students can complete on any device. 
Easel by TPT is free to use!
Learn more
.
What educators are saying
I love this interactive Reading Log. I am having much more success with students turning in their reading logs than ever before! Thank you!
Also included in
Early Literacy Bundle - collection of Kindergarten and First Grade early literacy resources! 18 resources are now included. This bundle includes:my top selling Personal Alphabet Book kit - ideally a teacher or ECE run center15 Reader Sets (14 of which are Sight-Word-Stages Readers, color with diffe

Price $32.00

Original Price $44.00

Save $12.00
Description
This fun, printable reading log / journal offers creative ways to assign reading homework to kindergarten and first grade students. Created with options for meaningful, fun, kindergarten and 1st grade 'homework'.
The K-1 includes 12 months (with a choice of themes to use for October, November, December, April and August) for young students to share a picture of a story they like and someone they like to read with (along with a four - part visual checklist at the bottom of the page).
, regarding:
✔Do I fit reading into my life most days?
✔Do I look at books and listen to stories about things that I am interested in, enjoy and make me laugh?
✔Am I responsible for getting my reading materials to and from school?
✔Do I get ready for bed on time to hear a story?

Having a fun, alternative reading log is ideal for setting a positive tone for homework and reading early in your students' academic careers! I like using the monthly journal pages as part of the special helper of the day's oral language opportunities.
Enjoy this alternative Reading Log for early readers!
Here is a blog post about Reading Logs in Kindergarten and First Grade if you would like more information!
Updates (to provide more reading log options) include:
visual checklist strips pages - 4 weeks / month
visual checklist strips pages - single strips to cut apart
monthly pages with a seasonal image to color in for each day / book read
monthly pages with a space to fill in what was read on each date

Click here to try this Alternative reading log for September - FREE!
Thank you in advance, to those of you who generously take the time to leave feedback.
Best wishes!
Save with bundles! This product is also available in:
Thank you in advance, to those of you who generously take the time to leave feedback here. (And give yourself a little pat on the back, too - you will have just topped up your TpT credit balance!)
More Early Literacy:
✐Digital Early Literacy Assessment Slides
☀FREE: How to make familiar reading fun for kids - Handout for parents and volunteers!
☀Concepts about Print: Letters and Words Storybook Lesson, bulletin board, visuals and sorting activity!
☀✐Level aa Special Times of Year – 10 pack: Sight-Word Readers, sentence puzzles and more!
☀The Top Three Reading Prompts Bookmarks - Free!
☀✐Sight Word Emergent Readers bundle
☀Save the Sight Words! [Smart Phone Box card game]
☀Say it, clap it, toss it! Syllable (and now, season option) sorting fun!
More BACK TO SCHOOL!
⛪ Learning Buddies Starter Pack
⛪ Reading Buddies | Reading Buddy activities
⛪ This is Super, Special Me! Fun All About Me no-prep printables for K-2!
⛪ 5-pack School Themed Sight Word Readers Bundle| TpT Easel
⛪ Fun K-3 Literacy Skills Bundle for the whole year! Read and Write and More!
⛪ The Complete Personal Alphabet BUNDLE !
⛪ Visual Schedule, Centers Management
More Kindergarten:
❥The Kissing Hand - FREE printable follow-ups to ease separation anxiety!
❥Kindergarten Starter Bundle, including
Shortcuts!

⭐Best-sellers⭐
Let's connect!
Thank you for visiting my store! Please direct any questions you may have on the Q and A page of my store (by clicking my name at the top right), or email me at ThatFunReadingTeacher@gmail.com.
Pop by for a visit on:
my blog - That Fun Reading Teacher.com
Twitter and
How to get TPT credit to use on future purchases:
• Log in and go to your My Purchases page. Click the Provide Feedback button, where you will be linked to the page to leave a rating and short comment for the product.
Be the first to know about my new products, discounts and freebies:
• Look for the green star near the top of any page within my store and click it to become a follower. You will then receive email updates about ThatFunReadingTeacher on TpT!
Kindergarten Reading Log | Alternative Reading Log | flexible reading log | reading log 1st grade | Reading Log | Reading Record | Reading Log for early readers | Reading Response sheet | reading journal | reading log options | reading log alternatives primary grades | coloring reading log printables
Report this resource to TPT