Amazing Grace by Mary Hoffman Lessons Activities and Writing Digital and PDF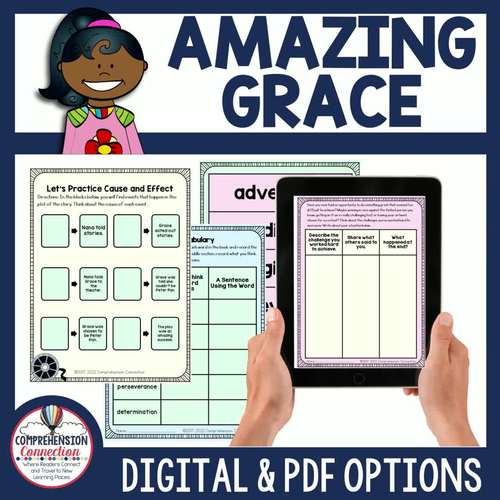 ;
PDF

Google Apps™

Internet Activities
41 (1/2 PDF and 1/2 Google Slides TM)
Includes Google Apps™
The Teacher-Author indicated this resource includes assets from Google Workspace (e.g. docs, slides, etc.).
Also included in
This Black History Month Book Companions Bundle has reading and writing activities for TEN TITLES (Includes ~500 pages in digital and pdf). It features popular diverse texts you can use any time of year, in conjunction with Black History Month, or with your content area studies. MORE ABOUT THE BLACK

Price $24.00

Original Price $50.92

Save $26.92
Description
Amazing Grace by Mary Hoffman is such an inspirational book. Every student should read it for the themes of perseverance, diversity, and inclusiveness. This comprehension and writing focused unit includes before/during/after activities to make planning easy and learning fun and inspiring. If you love Grace, you can explore Mary Hoffman's other Grace stories too.
What's included in the Amazing Grace Unit?
vocabulary organizer and word cards
schema building on the theme
cause/effect relationships anchor chart and activity
summarizing the plot
BME organizer
character change organizer
narrative elements four square response
questions-answer relationships anchor chart, question cards, and response form
and responding to literature. It concludes with a writing assignment called RAFT (Role, Audience, Format, and Topic) The student uses the Four Square Writing plan to organize his/her plan for drafting steps to becoming an actor or actress.
How is the Amazing Grace unit organized?
All of my book companion units are organized in a before, during, and after reading format. I try to include ways to use the books as a mentor text for both comprehension and writing. In this unit, the written component is a procedural text. Amazing Grace is truly a must use book in grades 3-5 because of the themes of perseverance, confidence, and inclusivity.
OTHER DIVERSE TEXT BOOK UNITS YOU MIGHT LIKE
GET THEM ALL WITH
Diverse Book Units for Black History Month
WHAT TEACHERS HAVE HAD TO SAY ABOUT MY AMAZING GRACE UNIT:
⭐️⭐️⭐️⭐️⭐️ Rachelle W. says, "My students loved this resource. They were very engaged and had fun in the process. I used this resource for more than one grade and was able to differentiate it to meet the needs of all the students I service. I used it for whole group as well as small group instructions."
⭐️⭐️⭐️⭐️⭐️Terra Carney says, "I purchased this resource to supplement a literature unit that was focused on something different but incorporated the book "Amazing Grace" into it. My students really identified with Grace so I decided to diver further into the character and found this resource. I love it, and will definitely be using it again in years to come! It is thorough and the fact that it covers both reading and writing objectives is a huge benefit!"
⭐️⭐️⭐️⭐️⭐️ Morgan G. says, "Loved using this product! It was effective and fun for all!"
⭐️⭐️⭐️⭐️⭐️ Amanda N. says, "Love, Love, Love this story and this unit was just as amazing!"
You may also like…
→ The Bad Seed Book Companion and Community Building Lapbook
→ Building a Classroom Community Paper Bag Book
Copyright © Comprehension Connection.
Permission to copy for single classroom use only.
Please purchase additional licenses if you intend to share this product.
Total Pages
41 (1/2 PDF and 1/2 Google Slides TM)
Report this resource to TPT
Standards
to see state-specific standards (only available in the US).
Ask and answer questions to demonstrate understanding of a text, referring explicitly to the text as the basis for the answers.
Recount stories, including fables, folktales, and myths from diverse cultures; determine the central message, lesson, or moral and explain how it is conveyed through key details in the text.
Describe characters in a story (e.g., their traits, motivations, or feelings) and explain how their actions contribute to the sequence of events.
Determine the meaning of words and phrases as they are used in a text, distinguishing literal from nonliteral language.
Refer to parts of stories, dramas, and poems when writing or speaking about a text, using terms such as chapter, scene, and stanza; describe how each successive part builds on earlier sections.