Amazon Rainforest Nonfiction Reading Boom Cards - Digital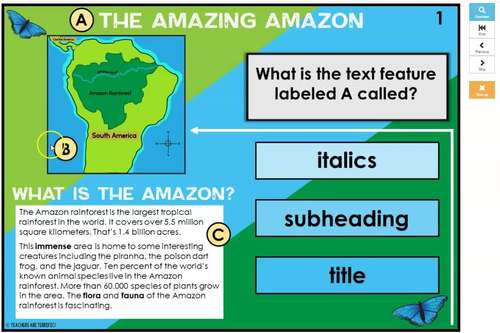 ;
Compatible with Digital Devices
The Teacher-Author has indicated that this resource can be used for device-based learning.
Description
This set of Boom Cards features 68 cards all about the Amazon Rainforest. Students will answer questions to identify text features or their purpose and respond to basic comprehension questions. These digital self-checking Boom Cards are such a great way for students to enjoy learning more about the rainforest, its animals, and its plants.
The Boom Cards include:
68 multiple-choice cards with a magazine-style layout for reading selections.
Task cards feature photographs and images of animals and plants.
Students will identify the text features used in the passages.
Students will identify the purpose of the text features used in the passages.
Students will complete basic comprehension questions.
32 cards focus on text features and 36 focus on content.
Your Guide includes:
Link for redeeming your Boom set
Directions for redeeming (in case you need them)
Answer Key
Text Features Glossary
The page count includes 68 task cards.
Check the preview for a SAMPLE!
This resource contains nonfiction reading selections designed to resemble magazine or newspaper pages. The features used in this resource include article, bold print, bulleted list, caption, close-up, diagram, fact box, graph, illustration, italics, label, map, photo, pronunciation, and title. The magazine articles are about the location of the Amazon, the river, the sloth, jaguar, green anaconda, a snake comparison, the Heliconia flower, and the rainforest canopy.
Boom Task Cards will require no printing, cutting out, or laminating. These sets are perfect for:
At-Home Learning
Small group time
Centers
Morning work
Early Finishers
Test Review and practice
THIS IS A DIGITAL RESOURCE. PLEASE READ THE DESCRIPTION TELLING YOU MORE ABOUT THIS RESOURCE.
You must be connected to the Internet. Boom Cards play on modern browsers (Chrome, Safari, Firefox, and Edge). Apps are available for Android, iPads, iPhones, and Kindle Fires.
For security and privacy, adults must have a Boom Learning account to use and assign Boom Cards. You will be able to assign the Boom Cards you are buying with "Fast Pins," (play provides instant feedback for self-grading Boom Cards). Fast Play is always a free way for students to engage with Boom Cards decks.
For additional assignment options, you'll need a premium account. If you are new to Boom Learning, you will be offered a free trial of our premium account. Read here for details: http://bit.ly/BoomTrial.
You may be eligible for a free trial from Boom Learning. Read here for details: http://bit.ly/BoomTrial. If you choose not to stay on a premium account after your free trial, you will still be able to assign all your Boom Cards to as many students as you see fit using Fast Play pins (which give instant feedback for decks that are self-grading).
NOTE: This set is available in a set.
You might also enjoy these resources:
I have more sets of Text Features Boom Cards!
***************************************************************************
Be the first to know about my new discounts, freebies, and product launches:
Click here to follow my store. It's that easy to receive email updates about Teachers Are Terrific!
Keep in Touch!
Thank you so much,
Teachers Really are Terrific!
Report this resource to TPT
Standards
to see state-specific standards (only available in the US).
Ask and answer questions to demonstrate understanding of a text, referring explicitly to the text as the basis for the answers.
Determine the main idea of a text; recount the key details and explain how they support the main idea.
Determine the meaning of general academic and domain-specific words and phrases in a text relevant to a grade 3 topic or subject area.
Use text features and search tools (e.g., key words, sidebars, hyperlinks) to locate information relevant to a given topic efficiently.
Determine the main idea of a text and explain how it is supported by key details; summarize the text.