American Civil War COMPLETE Unit: Causes of the Civil War, Battles & Results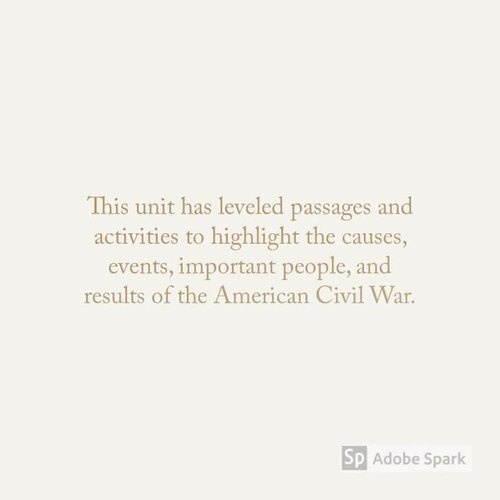 ;
Easel Activity Included
This resource includes a ready-to-use interactive activity students can complete on any device. 
Easel by TPT is free to use!
Learn more
.
Easel Assessment Included
This resource includes a self-grading quiz students can complete on any device. 
Easel by TPT is free to use!
Learn more
.
What educators are saying
This is a great resource. This is the second unit I have bought and used and they do not disappoint. I love that the reading pasages are leveled. Great product!
Absolutely loved it. A must have if you are teaching the Civil War. Made the lessons easy, fun and engaging. Also, love the differentiation between the reading passages. Thank you!
Also included in
Social Studies for the Year! Make teaching American History with these engaging activities fun and done! This MEGA bundle has passages and activities about Native Americans, Early Explorers, 13 Colonies, the Revolutionary War, the Civil War, Westward Expansion, the War of 1812, and more! It includes

Price $79.20

Original Price $174.00

Save $94.80

This MEGA Bundle includes 10 of my BEST SELLING Social Studies Units for the entire year! These units are geared toward 4th-grade students to help teachers meet the Georgia Standards of Excellence.What's Inside:1. American Revolutionary War2. The Writing of the Constitution3. Three Branches of

Price $53.76

Original Price $96.00

Save $42.24

This American Civil War Bundle has it all! A Digital Version for Google Classroom is included in this bundle. This unit has 22 leveled reading passages, organizers, comprehension & connection activities, vocabulary posters, unit test, important people & a flipbook! What's Inside:Civil War Ac

Price $19.60

Original Price $35.50

Save $15.90

This American History Bundle has it all: American Revolutionary War, 13 Colonies, US Constitution, 3 Branches of Government, War of 1812, Westward Expansion, American Civil War, American Symbols, and so much more! This huge bundle includes BOTH activity packs (PDFs) and PowerPoints. ****************

Price $127.12

Original Price $227.00

Save $99.88
Description
Make history come to life in your classroom with our Civil War Activities Complete Unit! Immerse your students into the American Civil War with this comprehensive collection of interactive activities, leveled reading passages, comprehension questions, and vocabulary posters. Step back in time as you teach your students about the events and people that were part of this crucial moment in history.
A DIGITAL version of this unit for Google Classroom is available.
With information about:
Slavery in America
A Divided Nation
Seceding the Union
Lincoln is Elected
Underground Railroad
Fort Sumter
Battle of Ironclads
Battle of Antietam
Battle of Gettysburg
Sherman's March to the Sea
A Union Soldier's Life
A Confederate Soldier's Life
Surrender at Appomattox
Emancipation Proclamation
Keeping the Union Together
Reconstruction of the Nation
13th, 14th, 15th Amendments
Videos shared on YouTube
With character studies on five important people:
✔President Abraham Lincoln
✔Harriet Tubman
✔Clara Barton
✔General Robert E. Lee
✔General Ulysses S. Grant
✔Jefferson Davis
There are lots of interactive activities to reinforce learning:
Character Mini-booklets
Fact Flaps Activity
Graphic Organizers with comprehension questions
Civil War Flip Book
Vocabulary Posters (6)
Vocabulary Flip Flaps
Spotlight on Vocabulary
Hidden Word Sort--Compare & Contrast Activity
Study Guide--Doodle Notes
Timeline Activity
Bulletin Board Kit
Teachers Pacing Guide
Video Links
Unit Test
Answer Keys
Be sure to check out the PREVIEW for more information.
Read about the causes of the Civil War, answer comprehension questions, and complete the organizers. The organizers work well for group work.
Set up a learning station for each of the five historical figures. In a folder at each station include the case studies on each historical figure and mini-booklets with a timeline. Students can complete the Character Mini-Booklets by writing three facts about that person and then putting the timeline dates in the correct order, coloring, cutting, and then pasting them inside their notebooks.
Read about the main events and battles highlighted and complete the custom-created graphic organizers. Students may need additional resources to answer all the questions on the organizer pages.
Introduce or review the vocabulary words with the real-life photo posters included. You could post these posters around the classroom and have students travel around to match up and define the words in their flip flaps or use them as a center activity. These posters make an attractive bulletin board display in a snap.
Read about the results of the Civil War. Bring the students together for class discussions to check for understanding and further their critical thinking skills after each lesson. Have students complete the 5-page Flipbook. They can build it page by page or use it for homework.
At the end of the unit, have students take the Unit Test to check for understanding and evaluate their learning.
CHECK OUT MY OTHER POPULAR SOCIAL STUDIES UNITS:
JUST FOR YOU!! To assess the quality and see the style of my work please check out these two FREE activity packs by clicking below:
Subscribe to our NEWSLETTER to gain access to our FREE Library of Classroom Resources, special giveaways, and to see our products in action!
*********************************************************************
Please know that I spend a lot of time researching, creating, writing, and proofreading my work but even after several revisions there may still be a typo or grammatical error. Please let me know if you find a typo or feel that a correction is needed. Just click on the Ask a Question section or email me at heart2heartteaching@gmail.com instead of leaving negative feedback so that I can fix it as soon as possible. I value your input to make my products the highest quality possible. Thank you in advance for your help and support!
Copyright © Heart 2 Heart Teaching LLC. All rights reserved. This file is intended for classroom and personal use only. Any redistribution or reproduction of part or all of the contents in any form is prohibited other than the following:
**You may print this packet for your personal, classroom use, and non-commercial use only.
**Website, blog, or online posting or publishing of this product is prohibited.
**Photos may be used in your classroom as presented in this product as posters, bulletin board displays, informational articles, and as visual aids for student learning only.
**Clipart, graphics, photographs, found inside this product are copyrighted. They may not be extracted from this file without written permission from the original artist(s).
Report this resource to TPT
Standards
to see state-specific standards (only available in the US).
Determine the main idea of a text and explain how it is supported by key details; summarize the text.
Explain events, procedures, ideas, or concepts in a historical, scientific, or technical text, including what happened and why, based on specific information in the text.
Determine the meaning of general academic and domain-specific words or phrases in a text relevant to a grade 4 topic or subject area.
Interpret information presented visually, orally, or quantitatively (e.g., in charts, graphs, diagrams, time lines, animations, or interactive elements on Web pages) and explain how the information contributes to an understanding of the text in which it appears.
By the end of year, read and comprehend informational texts, including history/social studies, science, and technical texts, in the grades 4–5 text complexity band proficiently, with scaffolding as needed at the high end of the range.