American History DBQ Activities, Primary & Secondary Sources BUNDLE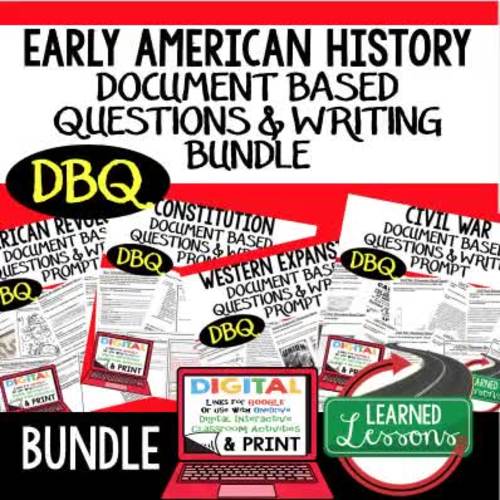 ;
Zip

Google Apps™
Includes Google Apps™
This bundle contains one or more resources with Google apps (e.g. docs, slides, etc.).
Easel Activities Included
Some resources in this bundle include ready-to-use interactive activities that students can complete on any device. 
Easel by TPT is free to use!
Learn more
.
Products in this Bundle (11)
showing 1-5 of 11 products
Bonus
Digital Links : Google and PDF/Dropbox
Description
Early American History DBQ, , Distance Learning, DBQ Document Based Question Writing Activity is perfect for Common Core planning in your American History classroom! Print, GOOGLE Forms, and Slides versions included.
Students will analyze primary and secondary sources to answer questions. Back to School ideas for American History. Also included in American History MEGA Bundle Colonial US to Reconstruction.
This unit includes links to engaging resource in Dropbox and Google Format as well as direct PDF downloads.
Sign up for email updates and follow me on TPT.
Included:
U.S. Colonies DBQ, Document Based Questions, Primary and Secondary Sources
Road to Revolution DBQ, Document Based Questions, Primary and Secondary Sources
American Revolution DBQ, Document Based Questions, Primary and Secondary Sources
The Constitution DBQ, Document Based Questions, Primary and Secondary Sources
The Constitution Bellringers, Task Cards DBQ, Document Based Questions, Primary and Secondary Sources
Federalist Era DBQ, Document Based Questions, Primary and Secondary Sources
Western Expansion DBQ, Document Based Questions, Primary and Secondary Sources
Native American Displacement DBQ, Document Based Questions, Primary and Secondary Sources
Reform Movements of 1800s DBQ, Document Based Questions, Primary and Secondary Sources
Civil War DBQ, Document Based Questions, Primary and Secondary Sources
Reconstruction DBQ, Document Based Questions, Primary and Secondary Sources
Print Copies, Google Slides Links, Google Forms Links
Check out other DBQs and Primary Source Activities
Links to all MEGA BUNDLES
Other Resources to Check Out:
CIVICS PAGE
US HISTORY PAGE
GENERAL RESOURCE PAGE
ELA & WRITING PAGE
PHYSICAL SCIENCE PAGE
PHYSICAL SCIENCE RESOURCE PAGE
EARTH SCIENCE PAGE
LIFE SCIENCE PAGE
WORLD HISTORY PAGE
GEOGRAPHY PAGE
LOUISIANA HISTORY PAGE
CLIPART RESOURCE PAGE
learnedlessonstpt@gmail.com
Thank you for your support! --Learned Lessons
Leaned Lessons Teaching Material
learnedlessonstpt@gmail.com
#TPTDIGITAL #TPTTECH Google, 1:1, Digital
Report this resource to TPT