American History Mapping Activity & Research Graphic Organizer, Google BUNDLE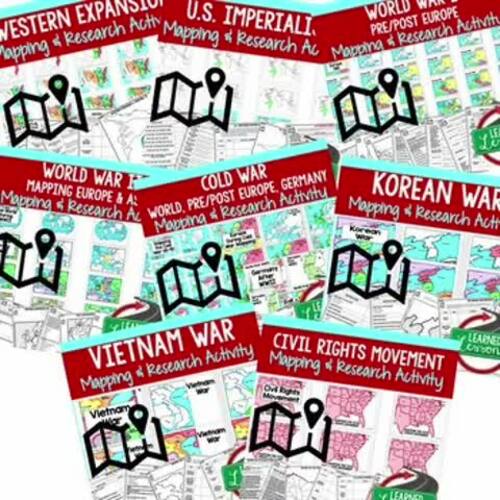 ;
Zip

Google Apps™
350 pages, Google Digital Links
Includes Google Apps™
This bundle contains one or more resources with Google apps (e.g. docs, slides, etc.).
Products in this Bundle (9)
showing 1-5 of 9 products
Bonus
Digital Links for Google and PDF to make planning easier
Description
American History Mapping Activity, PowerPoint Guided Mapping , Mapping U.S. History with Google Links for Digital Distance Learning.
Mapping the Western Expansion, US Imperialism, World War I, World War II, the Cold War Across the World, Mapping the Cold War in Europe, Mapping the Europe After the Cold War, and Mapping Germany and Berlin, Mapping the Korean War, Mapping the Vietnam War, and Mapping the Civil Rights Movements are all in a step-by-step format with a guided PowerPoint for students to use as a reference. This includes rubrics with and without point values, research graphic organizers, map templates, and guided PowerPoint. Research key events during the Cold War and then complete the guided mapping activity. It is also included in American History MEGA Bundle Western Frontier to President Trump.
.→Click Here to FOLLOW and GET Updates when NEW RESOURCES ARE ADDED
This unit includes links to engaging resource in Dropbox and Google Format as well as direct PDF downloads.
Sign up for and follow me on .
Included
-Western Expansion Mapping Activity with Guided PowerPoint
-Imperialism Mapping Activity with Guided PowerPoint
Step-By-Step Mapping with Rubric (with and without point values)
PowerPoint for Student Reference
Step-By-Step Mapping and Research Option (with and without point option)
Research Pages
Answer Key
Digital Google Link
Geography of United States History, US HISTORY, AMERICAN HISTORY MAPPING, Graphic Organizer, INTERACTIVE NOTEBOOK (Just print two to a page)
Links to all MEGA BUNDLES
Other Resources to Check Out:
CIVICS PAGE
US HISTORY PAGE
GENERAL RESOURCE PAGE
ELA & WRITING PAGE
PHYSICAL SCIENCE PAGE
PHYSICAL SCIENCE RESOURCE PAGE
EARTH SCIENCE PAGE
LIFE SCIENCE PAGE
WORLD HISTORY PAGE
GEOGRAPHY PAGE
LOUISIANA HISTORY PAGE
CLIPART RESOURCE PAGE
learnedlessonstpt@gmail.com
Thank you for your support! --Learned Lessons
Leaned Lessons Teaching Material
learnedlessonstpt@gmail.com
#TPTDIGITAL #TPTTECH Google, 1:1, Digital
Total Pages
350 pages, Google Digital Links
Answer Key
Included with rubric
Report this resource to TPT