American Literature Curriculum, Year-Long Curriculum, BUNDLE+, English Lessons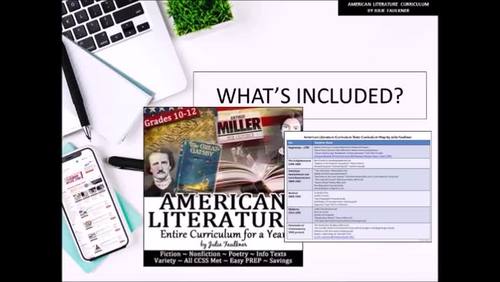 ;
Zip

Google Apps™
Includes Google Apps™
This bundle contains one or more resources with Google apps (e.g. docs, slides, etc.).
What educators are saying
I'm in the process of using this... it's a LIFE SAVER! Thank you for putting together such a thorough, comprehensive resource!
This was a game changer. Thank you for proving dad no a scope and sequence but also spiraling skill work and literary analysis.
Products in this Bundle (29)
showing 1-5 of 29 products
Bonus
Curriculum Tools: Day-by-Day Plan, Quizzes, Exams
Description
With this set of resources, you will have a full year's worth of materials for teaching American literature from America's beginnings to today. If you are new to an American Literature course/junior English, or if you are a veteran teacher looking to make some changes, address differentiation, or add diversity, this comprehensive resource will provide you more than enough material to do a great job – with as little prep for you as possible!
For each time period through the course of American Literature, I've provided complete teaching packs for some key canonical pieces to represent the time period as well as carefully curated paired texts throughout to bring in the much-needed diversity. There is a mix of fiction, nonfiction, informational texts, and poetry from a variety of authors.
Throughout the course of these units, students will read, write, create, present, and most of all learn and grow. You can pick and choose what works for you, or use the entire curriculum to cover state reading, writing, and speaking standards in a year's time. Not only will students be reading great American literature, but also they will be researching and writing along the way.
Each time period starts with a carefully crafted, classic PPT designed to frame the unit and explain to students why studying American Literature can enrich their lives. This resource will provide the rigor and relevancy you need with as much engaging and energizing elements that your teens will enjoy as well.
Included for Beginnings/Colonialism/Puritanism:
-Native American Creation Myth Short Research Project
-Trail of Tears Seminal Texts Mini Unit, Native American Literature
-"Up on the Burning" Bradstreet, Puritan Literature *with The Crucible
-Ransom of Red Chief movie guide
Included for Enlightenment:
-Ben Franklin's Autobiography Unit with paired text
"Speech in the Virginia Convention," Patrick Henry Unit with paired poetry
-Oluadah Equiano "Interesting Life" unit with paired text
-Soul Surfer Movie Guide
Included for American Romanticism and Dark Romanticism:
- Walden Unit (Transcendentalism)
-"Soul Selects Her Own Society" Dickinson Poetry Mini Unit, in the "Rose for Emily" Unit
-"Tell the truth tell it slant" Dickinson Poetry Mini Unit
-"Upton Wood" Poetry Mini Unit
-Poe Biography Viewing Guide (includes digital version)
-Sleepy Hollow, Irving mini unit with paired text
Included for Realism
-"To Build A Fire" Mini Unit (includes digital version)
-"Soldier's Home" Unit with paired text and poetry
-Twain Biography Viewing Guide
-Red Badge of Courage movie viewing guide
-Sojourner Truth "Ain't I a Woman"
Included for Moderns
-Trifles Mini Drama Unit with paired poetry
-"Rose for Emily" with paired text and poetry
-Gatsby movie guide (includes digital version)
- "Stopping by Woods" Poetry Mini Unit
-A League of Their Own movie guide
Included for Post Modernism/Contemporary
-"The Pedestrian," Bradbury Mini Unit
-The Crucible, Miller Full Drama Unit (Can also be taught in the Beginnings Period) (includes digital version)
-A Raisin in the Sun movie viewing guide
-Martin Luther King, JR. Text Mini Unit
Extras:
- Introduction lesson for each time period in a classic, no fuss editable PPT with key events, quotes, writers, pictures, and a slide to explain why we study American lit and a short editable quiz
- Foldable for notes to coincide with each time period PPT
- Final exam with answers, editable
-Modern, classroom posters
-Printable plans in two formats for administration and you: daily pacing guide and detailed weekly lesson plans
-Printable lesson plans with each text included for administration and you!
- Beautiful, age-appropriate design on every page to draw your students into reading, writing, analyzing, discussing, and learning!
**Download the preview file to receive free sample pages!
**Take a look at my free pacing guide here.
Classroom success stories from other teachers who have tried this resource:
♥ "I can't wait to use the wonderful resource to engage my students and keep me from recreating the wheel! Thank you! It is expensive but well worth the money!
Thank you so much for all your hard work. This product is amazing! It has been very helpful with planning and teaching since we don't have textbooks. Everything goes right along with the standards!"
♥ "I'm very hopeful with this product! I bought another one similar to this curriculum but it doesn't come close to the quality of these...Looking forward to using them..."
♥ "Thank you SO much. As a history teacher who also teaches English (and who has been given totally new English classes every year), this will save my life next year! I've never taught American Lit before, and this is exactly what I need to survive yet another new prep. THANK YOU SO MUCH!"
♥ "VERY organized and an excellent starting point for planning out my first year teaching American Literature. Thanks!"
♥ "This totally revamped my entire year of teaching Juniors!! One of the best (no THE best) thing I've purchased on TPT ever!! Do you have a year for Honors English 10?? I would grab it in a heartbeat"
♥ "I really love this resource. I was extremely hesitant to purchase because of the price. However, I think it was a worthwhile investment. My favorite part is the pacing guide. I printed it out and stuck it in a binder. I LOVE that I can flip to the day/week and know exactly what to do. The units are well-organized and the weekly/daily plans are clear and easy to follow. It also includes resources and texts that most of my Juniors are ACTUALLY interested in! (Upton Wood, for example- they really liked that one!) I feel that this was money well-spent. I've never taught 11th grade before, and this saved me countless hours of work, not to mention stress!!! Thank you! <3"
♥ "This is very well written curriculum! It contains complete and thorough day-by-day lesson plans that's great for first year teachers or veteran teachers (like myself)."
♥ "This is an extremely thorough product. I love the Power Point presentations for each time period, and the fact that the lesson plans are already done, saves me a ton of time and energy. Thank you!"
♥ "This is a phenomenal resource! I love the organization. Everything was really easy to follow, and designed beautifully! Thank you!"
Get my other ready-to-go curriculum bundles, too!
Be the first to know about my new discounts, freebies and product launches. Look for the green star next to my store logo and click it to FOLLOW ME. Voila! You will now receive email updates about my store.
For more ideas and inspiration:
Julie's Classroom Stories on Instagram
Julie's Classroom Stories on Facebook
Teaching Middle and High School English Facebook Group
Yearbook and Journalism Facebook Group
Email List for English and Yearbook Teachers
Terms of Use: Created by Julie Faulkner, updated 2019
Please, one classroom use only. Additional licenses are sold at checkout. This license is non-transferable. Not eligible for online environments unless password protected. Posting openly online is prohibited. No part of this resource can be used for commercial purposes, altered, or resold. This work is my original work, and taking portions of it to create something else for resale is prohibited.
Report this resource to TPT
Standards
to see state-specific standards (only available in the US).
Read closely to determine what the text says explicitly and to make logical inferences from it; cite specific textual evidence when writing or speaking to support conclusions drawn from the text.
Determine central ideas or themes of a text and analyze their development; summarize the key supporting details and ideas.
Analyze how and why individuals, events, and ideas develop and interact over the course of a text.
Interpret words and phrases as they are used in a text, including determining technical, connotative, and figurative meanings, and analyze how specific word choices shape meaning or tone.
Analyze the structure of texts, including how specific sentences, paragraphs, and larger portions of the text (e.g., a section, chapter, scene, or stanza) relate to each other and the whole.