American Revolution Unit - Google Slides - Revolutionary War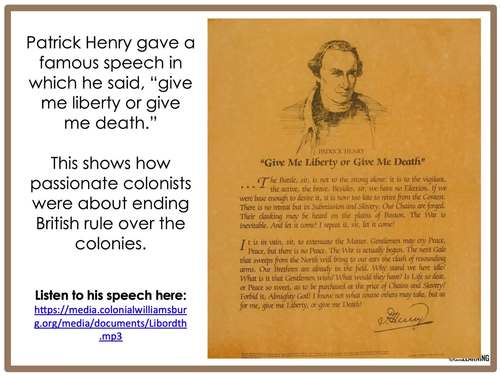 ;
Zip

Google Apps™
Includes Google Apps™
This bundle contains one or more resources with Google apps (e.g. docs, slides, etc.).
What educators are saying
Love, love, love the units from this shop!! I plan on using all of the social studies units from here going forward. They are so engaging and the students are ENJOYING learning! Thank you!
My students enjoyed the detailed power point presentations and the guided notes. The quizzes were helpful and I was able to check their knowledge along the way!
Products in this Bundle (6)
showing 1-5 of 6 products
Bonus
START HERE - Unit Plan Suggestions
Description
This American Revolution Unit is the perfect way to teach your students about the Revolutionary War! It includes everything you will need to teach kids about the American Revolution, including lessons, notes, test, and a Google Slides™ Project!
French and Indian War
Proclamation of 1765
The Stamp Act
Sons and Daughters of Liberty
Boston Massacre
Boston Tea Party
The Declaration of Independence
George Washington
King George III
Benjamin Franklin
Thomas Jefferson
Benedict Arnold
Patrick Henry
John Adams
Paul Revere
Battles of Lexington and Concord, Saratoga, and Yorktown
Valley Forge
Black Regiments
The Treaty of Paris
This unit correlates perfectly with 4th Grade Georgia Social Studies Standards
******************************************************************************************
Do you want your students to Love ❤️ Learning Social Studies?
Check out these other history lessons:
Save with Bundles:
⭐ Let's get to know each other! ⭐
Grab this FREE Civil Rights Movement Lapbook and receive other free resources and classroom ideas straight to your inbox!
If you have any questions, please email me: lovelearningtpt@gmail.com
Teaching Duration
1 month
Report this resource to TPT