American Symbols Worksheets - US Symbols - Veterans Day PRINTABLE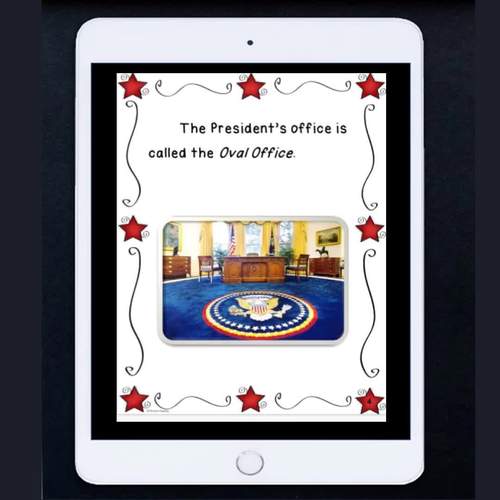 ;
What educators are saying
Lots of great information for discussing American Symbols. The comprehension checks were an excellent way to check for understanding. They learned so much! Thanks.
My class is loving learning about US symbols with these! There are so many wonderful activities included. Thank you so much for making my job SO much easier!
Also included in
American History U.S. History Bundle for 3rd, 4th, 5th, and even some 6th grades! Save MORE THAN 30% when you buy this awesome bundle of 484 + pages, consisting of 18 different resources. See individual resources for previews and descriptions. Teachers are saying:"This is an incredible resource. M

Price $40.00

Original Price $59.00

Save $19.00

This versatile Google Slides™ American Symbols resource (with real photos) is full of activities to supplement any of your patriotic units of study in your Google Classroom™ OR in-person teaching. This easy-to-use resource includes both the digital AND printable version so you are covered no matter

Price $5.50

Original Price $9.00

Save $3.50
Description
This versatile American Symbols resource (with real photos) is full of activities to supplement any of your patriotic units of study. This 83-page easy-to-use resource can be used with your 3rd graders or 4th graders for Presidents Day, Veteran's Day, Flag Day, 4th of July, Memorial Day, Constitution Day, Pearl Harbor Day, Patriot Day, Voting Day, etc.
For the interactive digital version, go HERE!
For even more super U.S. History resources to supplement your studies, click HERE to save more than 30%!
Teachers are saying:
"Wow! A lot included in this bundle and will bring loads of color to my American Symbols Unit. Great for my multi-grade classroom."
"I was really struggling to find resources for this social studies standard so thank you!"
"I love playing "I Have Who Has." Great listening activity and so glad to incorporate social studies!"
This informative resource:
Contains 18 symbols (listed below)
Meets the demands of the Common Core by having students interact with non-fiction materials in an engaging and fun way
Is super for 3rd-5th and low 6th grades (Be sure to look at the preview to judge the best level for your students)
Many Common Core objectives are listed
The United States recognizes many patriotic symbols. These symbols remind us of liberty and justice that make our country great. Help your students learn the history behind these symbols as they use and practice important reading skills.
Included in this awesome, easy-to-use resource:
⭐ 33-page informational book with real photos
Symbols included are:
⭐ White House, Oval Office, Statue of Liberty, The Great Seal, The Liberty Bell, American Flag, The Pledge of Allegiance, The Bald Eagle, The Star-Spangled Banner, The Charters of Freedom (The Declaration of Independence, Bill of Rights, Constitution), Independence Hall, Uncle Sam, Washington Monument, Lincoln Monument, Jefferson Memorial and Mt. Rushmore.
⭐ Additionally, there is information about George Washington, Abraham Lincoln, and Thomas Jefferson.
⭐ Listening for Purpose "worksheet" that can be used for note-taking as the book is read aloud, as students read independently and search for details or as part of an assessment.
⭐ Comprehension Check Fill-in-the-Blanks worksheet that can be used as part of an assessment or placed in an independent center.
⭐ 13 page Student American Symbol Book for labeling and writing facts
⭐ Interactive Comprehension Book with 16 questions (Flap Book)
⭐ 19 I Have Who Has Game Cards in color and black and white for your printing preference
⭐ 18 Word Wall Cards with suggestions of how to use them
Looking for other U.S. American History resources to supplement your studies? Here you go!
⭐ American History Series BUNDLE Grades 3 4 5 6
⭐ American Revolution 4th 5th and 6th Grades American History Series
⭐ Christmas Around the World 3rd 4th 5th Grades Common Core
⭐ Civil War Review for 4th 5th and 6th Grades American History Series
⭐ Critical Period 4th 5th 6th Grades Period After American Revolution 1783-1789
⭐ Industrial Revolution American History Series 4th 5th 6th
⭐ Memorial Day Read and Follow Directions
⭐ Memorial Day 3rd 4th 5th Grades Common Core Strong
⭐ Presidents Day Word Search Writing Reading and more 3rd 4th and 5th grades
⭐ St. Patricks Day 3rd 4th 5th Grades Common Core Strong
⭐ Veterans Day Literacy and Social Studies Activities November 11th Grades 3 4 5
⭐ Constitution Day, Citizenship Day or 911 Grades 3rd 4th 5th 6th
⭐ Thanksgiving 3rd 4th 5th Grades The Real Story
⭐ Pledge of Allegiance History of 3rd 4th 5th Grades
☀☀☀☀☀☀☀☀☀☀☀☀☀☀☀☀☀☀☀☀☀☀☀☀☀☀☀☀☀☀☀☀☀☀☀☀☀☀☀☀☀☀☀
❤️ Don't forget that leaving positive feedback earns you points toward FREE TpT purchases. I love that feedback! Please rate this resource and leave feedback HERE.
❤️ Also, follow me to be notified when new products are uploaded. New products are always 50% off for the 1st ten buyers after they are posted. It pays to follow me! Be the first to know about our new resources. CLICK HERE.
❤️ If you have any questions or need help with this resource, please email us at
❤️ For FUN teaching ideas and freebies, visit us at The Fun Factory Blog
☀☀☀☀☀☀☀☀☀☀☀☀☀☀☀☀☀☀☀☀☀☀☀☀☀☀☀☀☀☀☀☀☀☀☀☀☀☀☀☀☀☀☀
Report this resource to TPT
Standards
to see state-specific standards (only available in the US).
Ask and answer questions to demonstrate understanding of a text, referring explicitly to the text as the basis for the answers.
Determine the main idea of a text; recount the key details and explain how they support the main idea.
Describe the relationship between a series of historical events, scientific ideas or concepts, or steps in technical procedures in a text, using language that pertains to time, sequence, and cause/effect.
Determine the meaning of general academic and domain-specific words and phrases in a text relevant to a grade 3 topic or subject area.
Use text features and search tools (e.g., key words, sidebars, hyperlinks) to locate information relevant to a given topic efficiently.