Amoeba Sisters Unlectured Series 18 Topic BUNDLE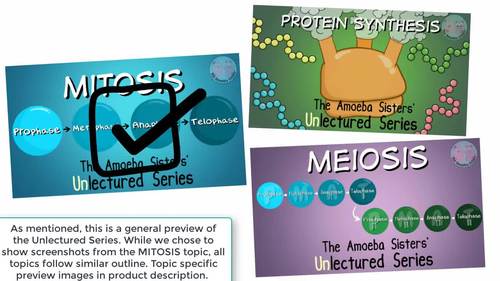 ;
What educators are saying
I like the unlectured series. There's a video on how it's intended to be used and that helps. Once my students understood the format, they did well with this.
Quality product that adds new layers and dimensions to lessons and units. Well thought out and complete. Was happy to use and proved helpful.
Products in this Bundle (18)
showing 1-5 of 18 products
Also included in
⭐ For those that have asked if there was a way to just purchase all the official Amoeba Sisters resources that we have created for TpT up to a certain point in time- this is it! This is a mega bundle that has ALL of our active, official Amoeba Sisters TpT resources up to MAY 2023. This is not a grow

Price $347.03

Original Price $433.79

Save $86.76
Description
NOTE: We have a general Unlectured Series video (above) so you can get an idea of the general sequence of items found in our Unlectured Series topics. The specific topic that this video shows is "Mitosis," which is one of the 18 topics in this bundle.

This bundle contains the 18 topics of our 1st series Unlectured topics. Please view them listed at the top. For more information about our Unlectured Series including a FAQ and a helpful Google Sheet that lists each one, please visit https://docs.google.com/spreadsheets/d/1wv1NJgZuU8lucDggZCzp1VAgO6wNaltthl5ZvHl-9Gs/edit#gid=0

Feb 2022 UPDATE: We have started to create a 2nd series. The 2nd series will focus on individual body systems and body processes. There is no bundle that includes the 2nd series - as we are still actively creating - however, we can make a custom bundle for you that includes additional topics from the new 2nd series.
Common Question: I purchased one (or more) of the individual Unlectured topics a month ago. I enjoyed the topic(s) and decided I'd like this entire 18 topic bundle as it has all the topics at a bit of a discount. Is there a way for me to purchase this 18 topic bundle and then be refunded the individual topic(s) I had previously purchased?
Yes! This falls under TpT's "duplicate purchase" refund policy as you purchased an individual resource and then later purchased a bundle that contains that resource. Please note that TpT specifies this purchase must have been made withinof the original purchase. Here is their information about how to receive that refund.
Purpose of Unlectured Series:
Our Unlectured Series offers an alternative to lecturing on a topic by promoting questioning, student discussion, and student creation. The series is designed to be used in place of traditional lecturing, and all topics are designed to be used as part of a science course that already offers hands-on lab experiences. In addition, many portions are very useful as part of revisiting as end of year/final exam review.
Details About Our Unlectured Series 18 Topic Bundle:
• This bundle contains 18 of our Unlectured Series topics. This is our complete first series.
• The list price price you see crossed out is the sum if all topics were purchased separately. Therefore, you can see the actual bundle price is significantly discounted from purchasing them separately.
• This is NOT a growing bundle so any additional topics that we make (which would be part of a second series) would not be included in this bundle.
• Each topic in the bundle is a zip file. Each zip file contains (1) its own facilitation guide, (2) its own annotated video script template, and (3) its own Unlectured slideshow. For more details about what is inside each topic, you can visit the individual TpT product page for each specific topic.
• All topics have a folder called "freebies." ALL "freebies" folders have an Unlectured Series spinner and "Unanswered Questions sheet." Therefore, you will see those SAME items enclosed within the "freebies" folder of ALL topics---they are not unique as they are meant to be used with all topics. Some topics additionally have extra freebies that pertain specifically to that topic.
• If we find any need to add a clarification to a topic from feedback---or an identified typo--- the topic can be immediately edited and it will also be edited in this bundle so you can always have the most up-to-date version of these topics through the TpT platform. This is definitely an advantage of not being a large publishing company where edits would likely take more time.
What You'll Need:
• Access to YouTube (to correspond to our free videos for each topic) for either you to show the short clip to students or students to view individually
• Highlighters or Colored Pencils for annotations on the Annotated Video Script Templates
• Student access to the internet is necessary for the Body System Functions topic and the extension slide on the Viruses topic.
• Paper is required as a minimum for the suggested "create" activities at the end of each topic, although technology tools can be used instead (and may offer more student creativity options and collaboration ability). Some of the "create" activities may call for scissors. Some optional (but not required) tools that can be helpful for some of the "create" activities include playdough or free technology tools. You can find out more about the "create" activities on any of the individual Unlectured Series topics product pages.
• A classroom environment where students feel safe and empowered to discuss topics where students may do more of the talking than the teacher.
We are passionate about teaching with questioning and discussion! However, this may not be for everyone. Please note: this supplement may NOT be ideal if:
• you are wanting a traditional slideshow of information (this is definitely not that)
• the content on our free Amoeba Sisters videos on YouTube are not sufficient (all topics use the video content as a foundation---you can view our free videos on our Amoeba Sisters YouTube channel in advance to see if they are a good fit for your course)
• you cannot open zip files (each topic is a zip file)
What are the terms of use?
After purchasing this product, all components can be used for all your classes indefinitely. However, it is licensed to you and cannot be distributed except to your own students. Like most TpT resources, none of these can be made publicly available online as this would then make it impossible for us to continue to support ourselves. If used online, please ensure it is only shared with your classes online (ex: password protected) and NOT publicly accessible. If you like this resource and want your school to be able to purchase, TpT does accept school purchase orders. Also, check out TpT for Schools, a platform that allows schools/districts to have accounts and be able to purchase items with their funds.
Report this resource to TPT