Amoeba Sisters Unlectured Series- ECOLOGICAL SUCCESSION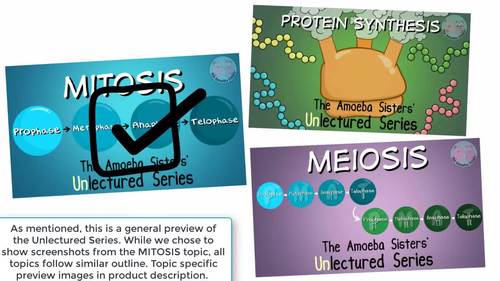 ;
What educators are saying
I was able to use this with my advanced 8th graders as we learned about ecological succession and biodiversity. The students were engaged and able to understand the concept.
My students loved the new approach to introducing a concept. It was easy to use and a great cross-curricular activity since students got practice annotating text.
Also included in
NOTE: We have a general Unlectured Series video (above) so you can get an idea of the general sequence of items found in our Unlectured Series topics. The specific topic that this video shows is "Mitosis," which is one of the 18 topics in this bundle.This bundle contains the 18 topics of our 1st ser

Price $113.46

Original Price $141.82

Save $28.36

NOTE: To see preview images of each topic included in this custom bundle, please click on each individual topic itself. We have included one preview video that explains how the Unlectured Series works, and it uses the topic "Mitosis" (included in this bundle) as an example.What is a custom Unlecture

Price $94.28

Original Price $117.85

Save $23.57

⭐ For those that have asked if there was a way to just purchase all the official Amoeba Sisters resources that we have created for TpT up to a certain point in time- this is it! This is a mega bundle that has ALL of our active, official Amoeba Sisters TpT resources up to MAY 2023. This is not a grow

Price $347.03

Original Price $433.79

Save $86.76
Description
NOTE: We have a general Unlectured Series video to preview the general sequence of items that is in all of our Unlectured Series topics. As the video preview mentions, the preview video uses the 'mitosis' topic (our first Unlectured Series topic) as an example. However, we have placed an image from the slideshow portion specifically that you can view.
Purpose of Unlectured Series:
Our Unlectured Series offers an alternative to lecturing on a topic by promoting questioning, student discussion, and student creation. The series are designed to be used in place of traditional lecturing, and they are designed to be used as part of a science course that already offers hands-on lab experiences. In addition, many portions are very useful as part of revisiting as end of year/final exam review.
We are passionate about teaching with questioning and discussion! However, this may not be for everyone. Please note: this supplement may NOT be ideal if:
• you are wanting a traditional slideshow of information (this is definitely not that)
• the content on our free ecological succession video on YouTube is not sufficient (this is based on this content)
• you do not have access to YouTube in your classroom (viewing the short, free video clip on YouTube is recommended before students complete annotated script template)
• you cannot open zip files (this is all in one zip file)
What this Unlectured Series is Designed to Do
• Provide information in an engaging, question format. While designed to be the first time students have seen the topic, these can additionally be used for end of year reviewing as well.
• Encourage active student discussion of topics through questioning.
• Emphasize the importance of "why this content is important?" and "how is this useful in our world?"
• Use comics that are relevant to students (and sometimes humorous) so that they are memorable.
• Be versatile! The Unlectured slideshow can be placed in a variety of digital tools. (Tool is not the focus)
What's Included in Zip Folder
• Annotated Video Script TEMPLATE for Ecological Succession
• Unlectured Slideshow for Ecological Succession (While it is in the format of a PowerPoint, it can be placed in other tools. Slideshow questions/images are NOT designed to be editable so that it can be used in other tools without formatting issues- however, you can always choose to add on if desired. Note: some minor features such as spinner/linked table of contents may not work in other tools)
• Freebie Unanswered Question Template, Number Spinner
• In Depth Facilitation Guide
What You'll Need
• Access to YouTube (to correspond to our free video) for either you to show the short clip to students or students to view individually
• Highlighters or Colored Pencils for annotation on the Annotated Video Script Template
• A classroom environment where students feel safe and empowered to discuss topics where students may do more of the talking than the teacher. There is an optional "create" activity at the end of all of our topics, which will at minimum require paper---or you can also choose to use a tech tool if preferred.
What are the terms of use?
After purchasing this product, all components can be used for all your classes indefinitely. However, it is licensed to you and cannot be distributed except to your own students. Like most TPT resources, it cannot be made publicly available online as this would then make it impossible for us to continue to support ourselves. If used online, please ensure it is only shared with your classes online and not publicly accessible. If you like this resource and want your school to be able to purchase,TpT accepts school PO orders. Also, check out TpT for schools!
Report this resource to TPT