Ancient China GRAPES Unit Bundle 6 Google Lessons & Print-Friendly + Bonus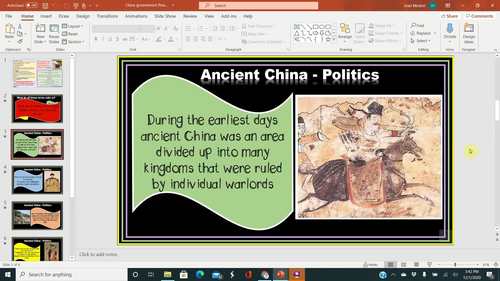 ;
Zip

Google Apps™
Includes Google Apps™
This bundle contains one or more resources with Google apps (e.g. docs, slides, etc.).
Products in this Bundle (6)
showing 1-5 of 6 products
Bonus
Ancient China Overview Lesson
Also included in
Does 5 weeks of no-prep, engaging lessons that address various skills and learning levels sound good to you? Then you're in the right place! The 4 river valley civilizations (Egypt, Mesopotamia, China & India) are covered in these mini-units using the GRAPES (Geography, Religion, Achievements, P

Price $34.50

Original Price $66.50

Save $32.00
Description
These interactive, differentiated, done-for-you lessons are great for distance or blended learning, as well as in class. These lessons include web quests, self-correcting and multi-disciplinary activities. They're great for English language learners and students with special needs because they include self-paced and read-aloud options, web quests and virtual gallery walks.
PowerPoint Presentations walk you through each lesson.
Lesson Plans are included.
Examples of the lessons:
***Students read a passage and then answer a question. If they answer the question incorrectly they are automatically sent to a re-teaching page. If they answer correctly they are given a "congratulations" and moved onto the next question. The final slide is a written assessment to check for understanding.
***There are PowerPoint presentations, videos, audio, student-choice, a virtual gallery walk...
AND MORE!
These are Google Slides activities created for Google Classroom. Each lesson is also adapted for in class lessons without devices.
Answer keys are provided when applicable.
These lessons cover the GRAPES (Government, Religion, Achievements, Political, Economic & Society) model of teaching about a region.
The Bonus Lesson is a reading passage that works as an introduction or review with a student activity handout.
YOU MAY ALSO LIKE MY DBQ ASSESSMENT FOR THE RIVER VALLEY CIVILIZATIONS
Frequently asked questions:
How do I know exactly what I'm getting?
My preview shows you everything that's in the lessons in detail. Check it out:)
What is and is not editable?
Slide presentations are fully editable. The student handouts are PDFs and not editable. The digital version of the student handouts are also not editable (other than adding a textbox over existing text)
Who is this resource NOT appropriate for?
These lessons are probably too difficult for elementary students and may be too easy for AP level 10th-12th graders.
Why should I invest my hard-earned money on this resource?
By purchasing this resource you are getting many days of lessons that would take many hours to create. It requires absolutely no preparation and you can use it again and again.
What if I have other questions?
Feel free to ask ANY questions you may have either down below on this page or email me at teachandthrive@gmail.com
Take the ACHE out of teACHEr -- invest a few dollars to save a few hours.
-If you like the quality of my work please follow me to be alerted to new products and sales.
-Don't forget to leave reviews on products you buy -- it PAYS YOU in TpT credits! Simply go to "my purchases" and click on "provide feedback"
Report this resource to TPT
Standards
to see state-specific standards (only available in the US).
Cite specific textual evidence to support analysis of primary and secondary sources, attending to such features as the date and origin of the information.
Determine the central ideas or information of a primary or secondary source; provide an accurate summary of how key events or ideas develop over the course of the text.
Determine the meaning of words and phrases as they are used in a text, including vocabulary describing political, social, or economic aspects of history/social studies.
By the end of grade 10, read and comprehend history/social studies texts in the grades 9–10 text complexity band independently and proficiently.